Another long rumored character is joining the cast of Injustice 2, Dr. Fate. The newest character trailer show cases the magician with the Egyptian powers.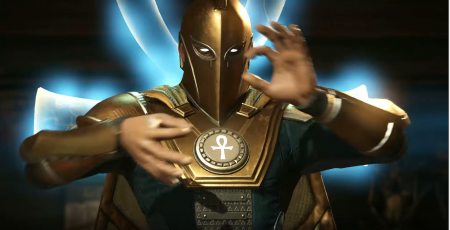 The Origins of Dr. Fate Lie Buried In An Egyptian Tomb
Dr. Fate's origin begins when a father and son team of archaeologist, Sven and Kent, discover the tomb of Nabu The Wise. During the discovery, the Sven is killed while the spirit of Nabu is reanimated. Nabu takes pity on the Kent and decides to teach him magic. Decades pass and Nabu the Wise decides to give Kent a mystical helmet, a cloak and the amulet. Now as Dr. Fate, Kent decides to join the JSA and his story becomes convoluted from there. There is no telling which iteration of Dr. Fate this character will be, but with more time his story should be made clear.
Injustice 2 is the sequel to the smash hit, Injustice. Masters of the fighting genre, NetherRealm Studios, is bringing back Injustice with a new cast of characters along with a few other surprises. Injustice 2 is set for release on May 5th. Make sure to keep an eye on BrutalGamer.com for all your video game news.