Let's start off this review by saying I am a total digi-fan. I am 27 years old and Digimon Digital Monsters continues to have a special place in my heart. In 1999, at the age of nine, my love for Digimon began despite it being a franchise targeted for boys. Naturally, it was strange for my parents to see me captivated by this series but they eventually came around.
In 2000, my brothers and I received toy digivices. Through the power of our imaginations, the three of us would go on adventures to the digital world. A part of me always wondered though, "wouldn't it be great if Digimon and its world were real?
Celebrating its 15th anniversary with an all-new adventure in Digimon Story: Cyber Sleuth
To celebrate Digimon's 15th anniversary, Media Vision and Bandai Namco Entertainment welcome players to EDEN in Digimon Story: Cyber Sleuth. Welcome to Eden, a virtual reality that prides itself on being the first of its kind to bridge the gap between the real world and cyberspace.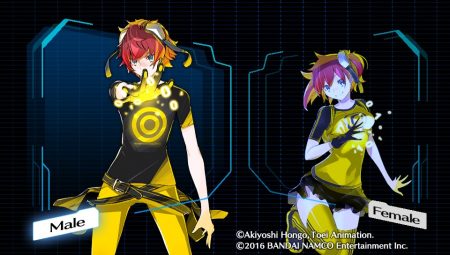 People log onto this virtual reality with the use of avatars where they can interact with others as well as meet their everyday needs.
Players can choose between the role of Takumi or Ami, who becomes a Cyber Sleuth for The Kuremi Detective Agency after their avatar is attacked by a mysterious life-form, called an Eater. Under the watchful eye of Kyoko Kuremi, the player is tasked with investigating the many secrets of EDEN as well as the mystery behind Eaters.
A turn-based RPG with addictive gameplay
Digimon Story: Cyber Sleuth is a turn- based RPG. This iteration of the series has done a wonderful job of making exploration and combat exciting. As you explore the digital world you will encounter many Digimon to battle, train and collect. Collecting Digimon is addictive as I have spent a fair amount of gameplay trying to collect all my favourite Digimon. While collecting Digimon, players should also be training the Digimon for battle.
The more you train your Digimon the stronger they will become. It should be mentioned that every time you evolve your Digimon their level resets back to one. However, don't despair as the Digimon's stats increase each time this occurs. This means the Digimon will be able to gain much higher levels. Evolutions are nontraditional so it provides a new way to collect Digimon. Players will be able to experiment and discover what Digimon works best. The game does a great job of presenting this information through the tutorial, which can be accessed at anytime. What is behind the Eater is not the only mystery players will be working on solving.
As a cyber sleuth, players progress the story by doing cases which are posted on the agency's white board. However, players can only work on one main case at a time. There are also a set of side cases. Completing these cases will provide the player with some additional rewards. While these cases can be fun, there are some items in the storytelling that prevent this game from being a hit.
The storytelling would benefit from a bit more polishing
As a veteran-RPG player, I understand the most important part of a RPG is the story. Games need more than just a compelling story. Without a good delivery service, stories can be confusing or misleading.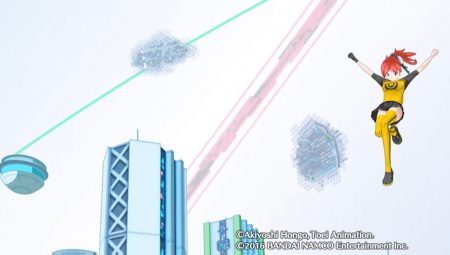 Unfortunately, Digimon Story: Cyber Sleuth, does a poor job at delivering the story. There were scenes that were so lengthy that it felt like I was reading a novel. There was a lot of information thrown at me at once and I felt exhausted by the time I finished reading the text.
The story is dark and intriguing but not well-written. There are some text passages that use poor wording which causes the story to not always flow seamlessly. I found myself having a hard time digesting the information presented. This prevented me from enjoying the game to the fullest and giving Digimon Story: Cyber Sleuth the attention it deserves. This was really a let down as the rest of the presentation of the game is wonderful.
Japanese only audio but has a beautiful visual presentation
Digimon Story: Cyber Sleuth is visually stunning. I was particularly impressed by the amount of detail that has been put into the game to recreate actual destinations in Japan. During the game, it felt as if I were on a virtual tour. Once players are done exploring the world of Japan, there are dungeons to explore.
The dungeons are linear and easy to navigate. I found myself exploring every nook and cranny to collect every treasure chest. The overworld map was not as good as the dungeon maps. While exploring the streets of Japan, it was easy to get lost. The map becomes different than the dungeon map and it is not nice and linear. At times, the map did a poor job of aiding the me to the next destination.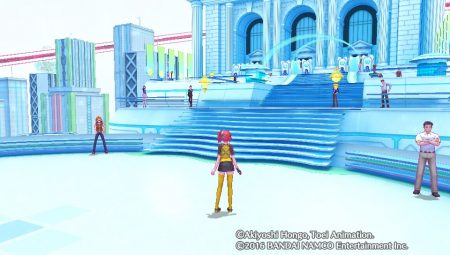 The voice acting was superb, even if it was not in English.
The voice acting in Digimon Story: Cyber Sleuth is in Japanese. While I did not have a problem with no dubbing, I could not help but wonder how much the experience would have differed if the voices were dubbed in English. The music is catchy and captures the essence of the game well.
 My Recommendations
If you are a die-hard digi-fan, then I would honestly recommend picking up Digimon Story: Cyber Sleuth. What I have played so far is a good game. I just wish a little more love and care went into the game so more fans could enjoy it. This game could have been a hit if it weren't for the little things that are missing. While it may not be the best Digimon game made, it is definitely on the must play list of any digi-fan.
Story and Audio - 70%
Stunning Visuals and Addictive Gameplay - 83%
With a little bit more care, Digimon Story Cyber Sleuth would be much more enjoyable. Despite its shortcomings it's still a must have for any digi- fan.