Wondering what's happening with that X-Men revival that's on the way? Here's the skinny on the Blue and the Gold.
The X-Men are back
As I suspected, X-Men Blue and X-Men Gold won't be what you knew in the past. That said though, it'll still be shocking close to the classic team(s) that fans know and love. As one of those fans myself, I think I'm safe to say I really like what's happening here. Well, almost.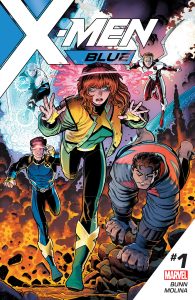 For starters, both of these new books are ongoing series'. So we're not talking limited anythings here, as these comics are meant to be the mainstays of the line. And that means that the X-Men aren't going anywhere, anytime soon. As a fan, that's making me all kinds of happy.
Also being promised by Marvel, is that the stories that'll be told in these comics won't show the X-Men on their heels. This sounds like it'll be a return to the mutant teams of old.
"Following an era where the X-Men were on the back foot, fighting for the survival of their species, we wanted to take a moment to exhale and indulge in the kinds of big, beautiful, colorful stories that portray the X-Men at their best," says Editor Daniel Ketchum. "It's a return to form, with spandex costumes rather than body armor, softball games on the school lawn, and the X-Men on a proactive mission to be the greatest heroes of all time—to human and mutant alike."
Rosters, creative teams, and more revealed
So now you've got the flavor of what's on the way, but what about the specifics? Well, we have that for you as well, with plenty of details. And that includes not just the teams that'll be telling these stories, but also which characters will be making up the squads. Both teams are loaded with classic characters, all of which you'd expect to find on an X-team.
It all kicks off in X-MEN GOLD #1, as creators Marc Guggenheim (X-Men, Young X-Men) and Ardian Syaf (Green Lantern) bring together the X-Men's biggest guns for an all-new adventure! Kitty Pryde has returned to Earth to find the X-Men in shambles. They survived their war with the Inhumans, but at a great cost. They've earned their future, now what are they going to do with it? Kitty takes the reigns and assembles a team of the most iconic X-Men to her side – Storm, Colossus, Nightcrawler, Old Man Logan and Rachel Grey. They are the X-Men, and they're here to take mutantkind into the future and make the world a better place!

Then, fan-fave creators Cullen Bunn (Uncanny X-Men, Monsters Unleashed) and Jorge Molina (A-Force, Star Wars) bring the time-displaced original X-Men together once more in X-MEN BLUE #1! With Jean Grey at the helm, Cyclops, Beast, Iceman and Angel will set out to embody Xavier's dream – to foster a world that no longer hates and fears them. But they'll have help from none other than…Magneto?! Why would these X-Men ally themselves with the man they once swore to defeat? Can the former mutant terrorist truly be trusted? The X-Men are young, but they aren't stupid. Keep your enemies close, after all…
Mixed feelings
I don't want to complain too much here. Since it sounds like Marvel is finally giving us what we've wanted for a good long time, I'm pretty happy overall. We get classic characters on classic teams, with the name X-Men finally meaning something again. And there doesn't look to be the level of in-fighting that the books have reveled in for so long. That's a very good thing, by the way.
So what's to be unhappy about? Well, I have extremely mixed thoughts about the young X-Men. I know this is probably not a popular thought, but I'd have preferred to have seen classic characters brought back to life or even retconned than to have seen X-Men jr still sticking around.
Ah well, it is kind of a soft-reboot, and at least we get Cyclops, Jean, Iceman, Beast, and Angel on the X-Men again. I'm not sure if I like Jean leading the team either now that I mention her. Being a Cyke fan, I've got some questions about that, but I'm more that willing to give it a chance.
As for the Blue team, well there isn't a whole lot to complain about from any angle. True, I'd rather see Wolverine than 'Old Man' Logan, but he'll work in a pinch. So overall, I'm happy. We do have a little while till RessurXion hits though, with all of this coming to pass in April of 2017.