We saw Hellboy take on a mutated polar bear, but how will he overcome the Nazi's in Hellboy Black Sun #2?
a continuation of Hellboy Black Sun #1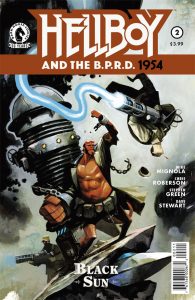 Hellboy's alone in Hellboy Black Sun #2
Hellboy, being recently added to the BPRD, shows all the sign of the new kid. Plenty of ego, with just a glimmer of experience. So he wandered off, and bit off more than he could chew. Now we find Hellboy at gunpoint by the Nazis. That does not seem like a good position to be in: outnumbered and outarmed. But what do you do when you are outnumbered and alone? Your options are limited. Chances are, if you're Hellboy, you run your mouth, and find yourself in a worse position before things get better.
Hellboy's In Trouble
Well, Hellboy's mouth writes checks he can't cash, and he finds himself in what appears to be even worse circumstances. Going from armed guards to men in lab coats. Uh oh, that can't be good. Though in this case, Hellboy's ego actually helps him out. Taunting how he defeated a compatriot of the nazis in front him, leads to the nazi leader to spill all manner of details of where they have been and what they have done. Until one of the nazi underlings lets slip a minor detail that Hellboy can use to his advantage. Then everything shifts.
Hellboy Humor
We all know Hellboy is one of a kind. No one else could get away with the antics he can. No one can survive the beatings that he can. So it's only expected that Mignola and company put him in ridiculous situations like fighting polar bears, or entire squadrons of militaristic citizens. Personally I enjoy Steven Green's artwork here. Instilling a bit of fantasy in the comic book stylings keeps things a bit light and entertaining, even if that is not truly the case. Who can't have a laugh when they end an arc like this one – the smug half-demon brushing things off like he ran to the corner store.
HELLBOY And The BPRD 1954 Black Sun #2
Publication Date: October 19, 2016
Publisher: Dark Horse Comics
Writer: Mike Mignola, Chris Roberson
Artist: Stephen Green
Colorist: Dave Stewart
Cover Artist: Mike Huddleston
Is Hellboy Over His Head
Plot - 92%
Writing - 86%
Art - 93%
Once again Hellboy gets himself into plenty of trouble. Combine his personality with his unusual abilities, and he's a challenge for even the worst of enemies. Check out Black Sun!