Hellboy and the B.P.R.D. are sent to investigate an unknown creature attack on an Arctic Expedition in Hellboy Black Sun #1. What could go wrong?
When Hellboy and the B.P.R.D. travel north to investigate an attack, Hellboy makes quick work of the initial investigation.
Stylish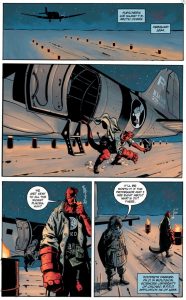 With a character as strong and distinct as Hellboy, who needs things like, backup? If you are unfamiliar with who Hellboy is, he is the child of a demon and a witch, a B.P.R.D. agent and the unwilling Harbinger of the Apocalypse. So in a nutshell, he's more than your average investigator.
Now, we know this book is the beginning of a new story. Feeling like a seasoned investigator, Hellboy thinks he can solve things easily. There is a mutation going on, and things seem a bit unusual. He sees it all the time. The team stationed at the Arctic are grizzled veterans who have seen more than a few things, and they are on the edge of their seats. Hellboy barely bats an eye.
After finding what appears to be a mysterious vehicle in the snow, he figures he's got things under control. Hopping in to have a closer look, and things take an unexpected turn. He is separated from his team, and transported to somewhere unexpected – a wonderful cliffhanger that leaves you dying for the next issue!
While we are not told what the Black Sun is, we know something is going on, just out of reach. The name is ominous: The sun is a source of power, and black as a descriptive name is therefore a dark and foreboding description. Foreboding name, animal mutations, unexplained activities. Someone did the right thing calling in the B.P.R.D. – now they just need to sort the wheat from the chaff.
Like a blunt instrument
Black Sun #1 wouldn't be a Hellboy title if we didn't have a tussle with a monster somewhere. We've seen Hellboy take on demons, goliaths, and much more, so to tell you that he squares off with this one, it sounds a bit simple. Though there is always more beneath the surface.
The inking is as bold as Hellboy's attitude: thick and to the point. There's no time for messing around. Mignola, Robertson and Green have perfected an amazing style that would seem a bit odd with other characters, but seem right at home for this part-demon. The advanced copy we were provided was black-and-white. This simply goes to show that the story as well as the style are incredibly strong.
Hellboy is always a fun character to follow, because he can do so many things that the rest of us only dream of. Grab your copy of Hellboy and the B.P.R.D. – Black Sun #1 today!
Follow along with our review of Hellboy and the BPRD 1954 Black Sun #2
HELLBOY And The BPRD 1954 Black Sun #1
Publication Date:September 21, 2016
Publisher: Dark Horse Comics
Writer:Mike Mignola, Chris Roberson
Artist:Stephen Green
Colorist:Dave Stewart
Cover Artist:Mike Huddleston
Dark and Stormy
Gritty - 85%
Brawn over Brains - 90%
Hellboy is more than the average detective, and he makes sure you know it. See where his adventures in the Arctic take him!