Rage Expo is one of South Africa's biggest gaming and tech events and this year it was held from the 7th to 9th of October in Johannesburg and Cape Town. As one of SA's most acclaimed gaming and anime events, expectations were quite high and sufficed to say, they did not disappoint. This year I had the privilege of attending the Saturday event and I chronicled my experiences so that you guys could experience them too. Amazingly detailed cosplays, brilliant artworks, addictive merch and tech stalls, and VR systems in abundance were just some of the I encountered at Rage Expo.
Cosplays, Cosplays Everywhere
So with every big anime and gaming event comes the chance to dress up as your favorite character and Rage is no different. Cosplay competitions have been held throughout the years, yielding some amazing results. The Saturday we attended was no different. The cosplay competition was scheduled for the Sunday event but that didn't stop many from attending on Saturday decked out in commendable foam armor and, in some cases, fur costumes that looked too stuffy to wear in the middle spring. From video games, to books, to movies to anime, almost all fandoms were represented. There were many variations of Kaneki Ken and even an Uta (who looked amazing and totally on point with his red contacts) from Tokyo Ghoul, Freddy from Five Nights at Freddy's, a group of Call of Duty soldiers who marched around looking like general bad-asses, and even a Pokestop. Here are a few snaps of my favorite ones: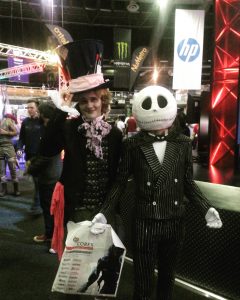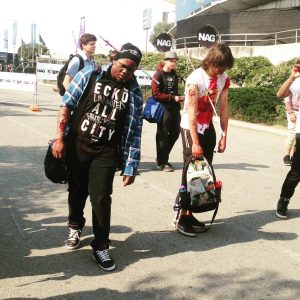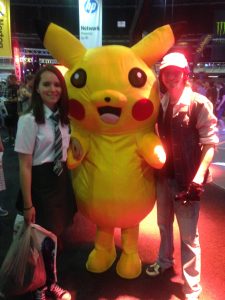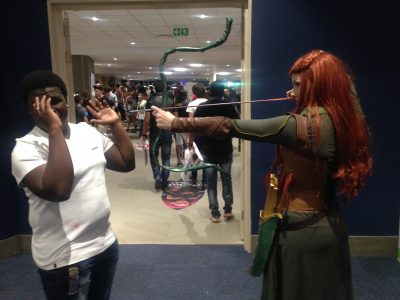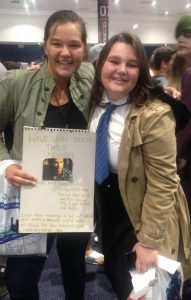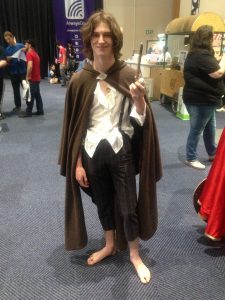 Artist's Hall
So the Artist's Hall at Rage is generally where many of the stage events take place and is a section of the exhibition where artists can sell their artworks. Now, I've seen my fair share of great art, but so many of the artworks I saw at Rage on Saturday were breath-taking and so intricately detailed that they made me want to cry with sympathy for these artists who probably didn't sleep at all the week prior because they were too busy finishing their art. These were some of the artworks that made me want to shove my money at the artists just for the opportunity to hold these marvelous creations: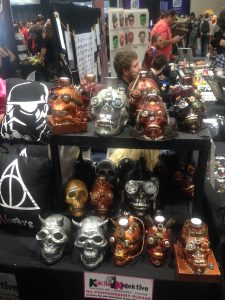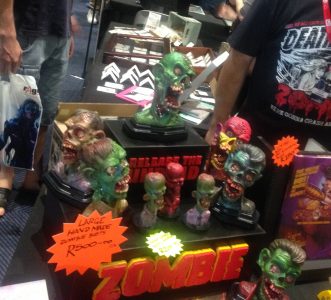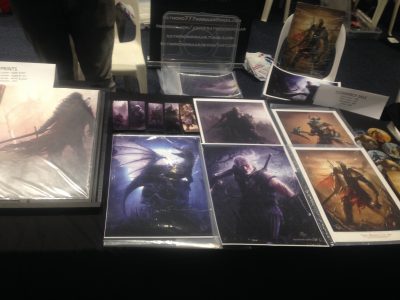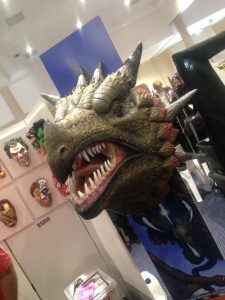 Gear's of War 4 Gameplay Preview
Xbox held a gameplay session for Gears of War 4, set to be released in a few days time. The features gamers got to try out included a preview of the multiplayer mod. The entire setup was really secretive, with a huge black drape around the booth and players came out expectant and hyped about the full gameplay.

Among the Innocent
Among the Innocent is a South African based first-person suspense and adventure game. Set in an abandoned farm in Free State, the game takes you through an in depth narrative, in which you discover ominous secrets and histories. The developers had set up a stall equipped with computers that allowed you to experience the demo firsthand. It's a standard point-and-click game, primarily created for PC and is quite simple to maneuver. The atmosphere is chilling and mysterious. The game is the first in a series called Striken and is said to be emotionally loaded during the gameplay. You can watch the trailer for it HERE and purchase the game or download the demo HERE. It was definitely one of my favorite discoveries as South African based games are a few and far between.

Injustice 2
So Warner Brothers Games held a secretive Injustice 2 game preview and it made me squeal like a little child on Christmas morning. The entire exprience took place inside this huge, almost box-like structure and from outside onlookers could hear great booms and explosions that made you want to know exactly what was happening inside the box. The lucky few (that braved the elements and stood in line) were ushered inside. The audience chose their seats and then the action began. We were introduced to the game and its new features while one of the hosts controlled the gameplay. Now, I'm a huge Injustice fan and at this point I was completely losing it. The graphics look amazing and the gameplay exciting. Gorrilla Grodd and Supergirl are some new characters that we can expect, along with Deadshot and Harley Quinn. The player also gets new equipment after every battle and let me tell you, the end result is beautiful. The characters also acquire new moves that will leave you smiling sadistically as your opponent gets thrown around and beaten like a ragdoll. There's also more blood and violence, which is a plus. Sadly, no photography was allowed so I couldn't capture the sheer beauty of Gorrilla Grodd decked out in gold armor but the game is definitely something to look forward to.

The Reason I am now a stereotypical broke university student
So for those of you who are like me and like to deck yourself out in the merchandise of your favorite shows and video games, Rage Expo was the place to be. From Harry Potter wands to Totoro onesies, they sold everything. Tech stalls with the latest in headsets, microphones and laptops were structured around the gaming stalls. Stalls selling shirts, mugs and buttons of your favorite anime characters called out to you like some weird telekinetic force. I will definitely admit that I left the expo massively poorer. My advice to anyone who wants to attend the expo is that you start saving a year in advance and mentally prepare yourself for the inevitability of eating crackers and cheese post-Rage because you will not have money for food.

NAG LAN
One of Rage's most anticipated events is the NAG LAN event. Thousands of gamers purchase tickets for the event, bring their gear and proceed to sit in that spot for the rest of the weekend, playing online. It's glorious. It's one of South Africa's biggest eSport events and the anticipation for it is always palpable when it nears the time. The NAG LAN players are always separated from the rest of the expo and the atmosphere is always quite serious and intense. This year was no different. Players came as early as 7am on Friday in anticipation to set up. The event lasted most of the weekend, running from Friday morning to Sunday afternoon.
A memorable time was had, with many great events. While geek culture is not the hugest sphere in South Africa, Rage Expo does a great job of bringing together the small portion that do inhabit the country into one building for a weekend of amazing interaction. Did any of you guys attend the event? What was your favorite cosplay or artwork? Let me know in the comments below!