Hellboy is dead, were you aware? But that won't stop him from wreaking a little havoc in Hellboy In Hell The Death Card.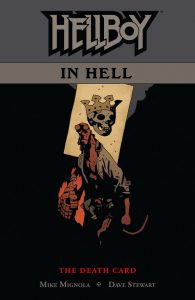 Hellboy In Hell The Death Card
Just because Hellboy is dead, doesn't mean it's the end of the story here. In fact, in his case, that is just when the story starts to really get good. And whoever said you can't write and draw your own comics, is just a liar. Mignola has shown that it can be done, and done well.
So what we know, is that Hellboy is down below, and he's a bit of a celebrity. Now, whether he's famous or infamous, you'll have to determine for yourself. With a prologue introduced by another infamous character, to some of the goons met below. This is certain to be an interesting read.
Hellboy Is…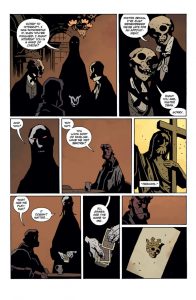 Hellboy is no stranger to the workings of hell. Neither is he unfamiliar with the usual big players. It helps to know these things when you are in a position like his, being a half-demon and all. So when he stands against the likes that would make you and I tremble, it makes all the better of a story. On occasion where he may be outnumbered, then even better.
As we have come to expect from Mignola, the writing here is wonderful. Things transition easily, while at the same time keeping you at the edge of your seat. Expertly dragging out the details of some of the shadiest, ghoulish personas that you would prefer to cross the street to veer from.
The Death Card
No one ever wants to see the death card pulled from a deck. Regardless of it's translation in the situation, it is a foreboding image to almost anyone. Why should it be any different here?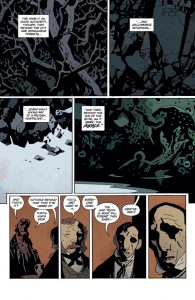 Mignola and Stewart have a particular style that brings the creep factor to some of these characters. Missing body parts and distorted faces are but a few examples of where things go strange here. In a world where many artists strive for a realistic feel, it is refreshing to have someone who knows how to stray. And does it well.
If you are a Hellboy fan, then this graphic novel is right up your alley. If you happen to be a fan of adventure/horror graphics, then take a chance and pick this one up. At over 100 pages of the Mignolaverse, you can't go wrong.
Hellboy In Hell The Death Card hits shelves on October 5, 2016, for $17.99.
Writer:Mike Mignola
Artist: Mike Mignola
Colorist: Dave Stewart
Cover Artist: Mike Mignola
Hellish times
Plot - 94%
Writing - 95%
Art - 91%
We follow Hellboy as he adventures through Hell. He's brought havoc as prophecies have foretold. But he's not done. What more does Hellboy have in store?