One of the games I perhaps spent the longest time playing at EGX was a game in the Leftfield section called Astronaut: The Best'.  The first game from US developers Universal Happymaker, this game is a comedy narrative strategy game which sees you are the new director of the Flaustria Space Academy.  It is your job to try and prepare a team of 5 randomly generated astronauts for a space flight for the glory of Flaustria.
Each of your astronauts has stats in five different categories: Fitness, Piloting, Procedure, Charm and Beauty.  Your aim is to try and train your pilots in a variety of different ways to make sure they are ready for the flight.  Each day, you will be presented with a choice of training exercises to participate in.  You must pick two of your astronauts to participate in the training, which takes place on a national TV program called "The All Seeing Eye".
Each training exercise consists of three rounds.  For each round, you must pick an astronaut and also an expert to help them.  Each expert offers a different percentage chance of you succeeding, with the experts with a smaller chance of success often giving you bonuses if you happen to succeed.  Your success or failure will effect the ratings of the show.  The higher the ratings, the more money and glory you'll bring to the Academy.  However, lower ratings will cause you to lose money and glory.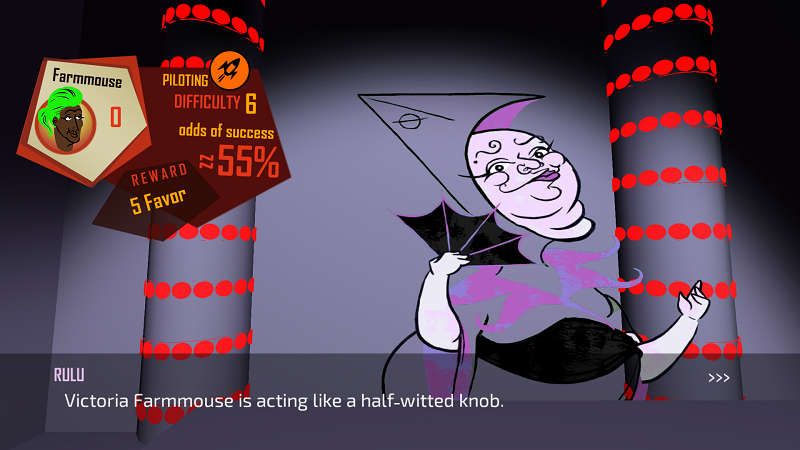 Sometimes, you will reveal character traits for your astronauts by performing training which can affect them in both positive and negative ways.  For example, one astronaut might be a 'Serial Beggar', which means they beg for money even if they don't need it.  They'll lose charm points for having that trait, but they'll also bring extra money to the space program for you.  There are items you can buy and earn in order to change these traits, if you wish.  Also, completing the training will increase your astronauts stress levels, and will cause them to have a breakdown if you don't manage their stress effectively.
As if trying to manage your astronauts wasn't enough, you also have to deal with the Five High Priests of Flaustria, who fund the space program and all have their own expectations.  They will occasionally come to you with suggestions that they think will help, or in some cases will come to you with something that could derail you and you have to figure out how best to deal with it.  They all have very different personalities which you have to take into account for your program to run smoothly.
Astronaut: The Best looks like a great, quirky and fun game, with a deep strategy underneath the comedy veneer.  You can find out more about the game and support it on Kickstarter at it's official website.