Ready to Go Rogue? Toys from a whole mess of companies are now available for the latest Star Wars movie, Rogue One.
Rogue One arrives
Whether you're into Micro Machines, LEGO sets, action figures, or even wearable helmets, Rogue One: A Star Wars Story is in full effect today. Last year, Force Friday meant several stores nationwide opened their doors at midnight the eve before. This year though, things were a little different.
Only Toys R Us' cracked the door at the stroke of 12. If you couldn't make it for that, chances are that what you wanted might have been sold out. I know last year, I went to a TRU at midnight and walked away with only a couple of the things that I wanted to snag for The Force Awakens. If that's the case for you too, then that means that you're going to want to head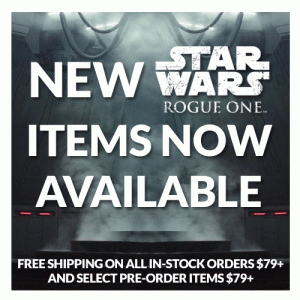 online.
If that's what you're looking to do, then you might want to pop over to our pals at Entertainment Earth. The internet collectible superstore has pretty much everything Rogue One, including some of the harder to find stuff.
They're also running a pretty slick deal today, that can get you a little cash off your purchase. All in-stock orders of $79 USD will get you free shipping, so you won't have to pay anything extra for the ease of online shopping. See something that you like that's in the pre-order category? Well you might be in luck there too, as select pre-orders fall into this deal too.
Want in? Hit the link. New Rogue One Items Now Available