GameStop and Bethesda are prepping a series of free fan events in some of the US' biggest cities. You'll be able to eat, drink, and be merry… oh, and play Dishonored 2 as well.

Dishonored 2 is coming up fast, hitting consoles and the PC on November 11th. It promises to be pretty awesome too. This time there are two times the playable characters (Corvo and his daughter, Empress Emily Kaldwen), and plenty more superpowers to wield. Of course, there are plenty of things to play with that you can get all stabby/shooty with too. You know, if that's your thing.
And to celebrate all this skulking around in the shadows, GameStop and publisher Bethesda have some special events planned. Called Dishonored 2 Event | Karnaca Needs You!, these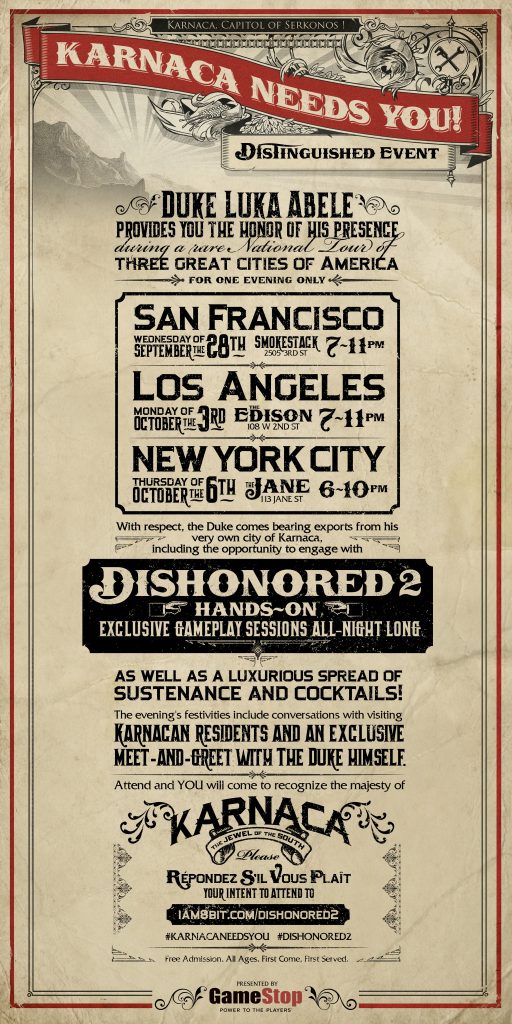 little parties will have you getting up close and personal with the game in question, as well as having some fun with free grub and giveaways too.
Here's the rundown
Hands-on with Dishonored 2;
Scavenger hunt and a chance to win a Dishonored 2 custom Xbox One or PlayStation 4;
Themed food, drinks and photo opportunities;
T-shirt giveaway in all cities, swag and more!
LA exclusive: live shirt screen printing
Yes, that last one is exclusive to Los Angeles, but that leaves plenty of reasons to go to a Karnaca Needs You event, if you're going to have one locally. And when and where might you be able to do that? Well, the answer is two cities on the west coast, and one on the east.
Here's where you can find a game-playin' party:
Los Angeles | Monday, October 3
7pm – 11pm PT
The Edison | 108 W 2nd St #101, Los Angeles, CA 90012
New York | Thursday, October 6
6pm – 10pm ET
The Jane | 113 Jane St, New York, NY 10014