There's a new Star Wars film on the way with Rogue One, and you know what that means. Toys R Us is planning some Force Friday fun.
Force Friday cometh
It seems like it was just last year that kids and collectors alike crowded into Toys R Us stores for Force Friday, the walls lined with figures, LEGOs, and everything else… Oh, you know what, some to think of it it was last year. With Disney now in control of Star Wars, we're in for more from that Galaxy Far, Far Away on pretty much a yearly basis. For non-fans, that's probably a drag, but for those of us who've grown up with Lucas' baby, well, it's a good time.
This year, just like the last, TRU has some late night partying planned for the release. Unlike the last though, TRU will be the only game in town for midnight openings. That's quite the coup for them, and they've got a nice long selling season ahead too. Don't forget that the movie hits on December 16th, but Force Friday will take place on September 30th. Time enough for a few waves of toys? I think so.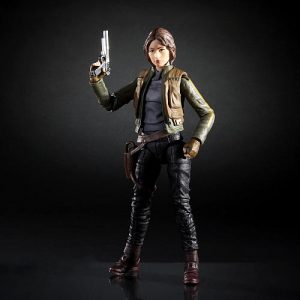 When you head to your local TRU on the 30th, you'll find most of what the first volley of Rogue One toys will offer. If last year is any indication however, get there early. I went at about 12:30am and found more than a few things already gone. Just an FYI for you.
If you do want to secure your goodies before you go though, the store is offering preorders on a few items. Probably figured to be some of the biggest sellers of the season, you can lock up the following as of right now:
Star Wars Force Band™ by Sphero®
Rogue One: A Star Wars Story The Black Series Sergeant Jyn Erso from Hasbro®
Rogue One: A Star Wars Story Rebel U-Wing Fighter Drone from Hasbro
Star Wars The Black Series Imperial Stormtrooper Electronic Voice Changer Helmet from Hasbro.
As for the rest, and there'll be quite a bit of it, you're on your own. But really, that's half the fun of collecting isn't it? As for the particulars on the midnight openings themselves, stores will open their doors at 12 midnight local time. Sales on Toysrus.com on the other hand, will be timed to eastern standard. So feel free to log on and buy right then, no matter where you are.
If you go to a brick and mortar though, you'll get an exclusive poster and t-shirt to take home free of charge, while supplies last. Yet another reason to eschew online shopping and get yourself to a store early.