Partnering with Catalyst Game Labs, Valiant Comics has a whole different look at card and tabletop games ready with Valiant Universe: The Deck Building Game.
As you may or may not already know, Valiant Comics is no RPG rookie. The company has the successful Valiant Universe RPG available after all, an that game was created by Catalyst as well. So there's a history here.
Their newest joint effort though, is something pretty different from your standard RPG. It's a deck building game, but it's not exactly what you might think.
Translating a universe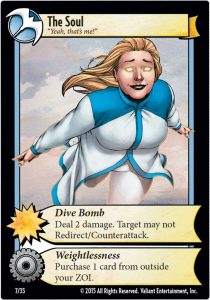 Valiant will be lending its characters and universe to title that, before anything else, feels appropriately 'Valiant'. But while the art and adherence to the superheroes of the Valiant U will be foremost, right there with all that will be some cool game mechanics and heavy doses of strategy.
"We're incredibly excited to have gamers and fans take control of the critically acclaimed characters of the Valiant Universe," said Russell A. Brown, Valiant's President of Consumer Products, Promotions, and Ad Sales. "We're incredibly happy to be continuing our partnership with Catalyst Game Labs, and to be creating another immersive gaming experience with exciting features, innovative gameplay mechanics, and finely sculpted figurines that are collectibles in their own right. The level of quality that Catalyst has put into this game is astounding, and ensures that fans new and old will get a superb gaming experience set in the Valiant Universe."
You'll be able to play as any number of Valiant heroes and villains in the game, which has a familiar setting for fans. I think it's probably safe to say that anyone who reads Valiant's books should know Project Rising Spirit.
Deep beneath Alcatraz prison lies a top secret base operated by the paramilitary contractor known as Project Rising Spirit. Known only as "the Facility," P.R.S.'s secret bunker is armed with enough power to change the world—or destroy it. When word of the subterranean facility leaks, the Valiant Universe's most powerful groups, including The Harbinger Foundation, G.A.T.E., and the Harbinger Renegades, race to acquire the deadly possessions and put the fate of the world in their hands! With a cataclysmic confrontation imminent, take control with your warring team and claim P.R.S.'s base for yourself! As the Valiant Universe's greatest heroes fight at your command, move your superhero miniatures through an interactive facility grid to acquire cards for an unbeatable deck and attack your opponents in a world-shaking battle for supremacy!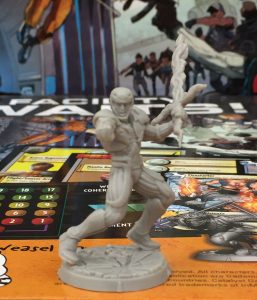 Not your typical card game
No, you're not reading more into that pr text, this game actually has figures of Valiant's heavy-hitters.
So what kind of card game has miniatures? Well, like I mentioned above, it's not the typical representation of the genre.
Not that there won't be cards though. Catalyst says that there'll be over 200 cards in the box, so there should be plenty of those too. It's just that Valiant Universe: The Deck Building Game offers a little something extra for fans.
Overall, here's what's included:
Five highly detailed superhero miniatures, including X-O Manowar, Faith, Bloodshot, Livewire, and Ninjak!
5 Zone of Influence cards
5 Organization cards
25 Basic cards
25 Shutdown cards
15 Power cards
175 Sector cards
1 Facility Durability Tracker
1 six-sided die
1 sheet of cardboard counters
The game is available for pre-ordering now, via Battlecorps.com. And if you're getting copy (or are just a really big Valiant fan), you might want to lock it in. Pre-ordering is the only way that you can snag yourself an exclusive Rai figure and accompanying power card. Pretty nice little bonus there.
Valiant Universe: The Deck Building Game will run you $59.99 USD, and arrives in stores and at online retailers next month.