Blade Arcus from Shining: Battle Arena brings classic 2D fighting to the PC, with liberal doses of Sega's Shining series' sprinkled in.
Yes, Studio Saizensen's latest (published globally by Sega) is essentially a crossover game of Sega's Shining Blade and Shining Hearts. A Tactical RPG and JRPG respectively, the games were both fairly well received at the time of their release. While both games had substantial story and character development, Blade Arcus from Shining: Battle Arena is simply a fighting game with a minimal story mode. What's here is just enough to satisfy the biggest Shining fans.
Graphical splendor
Visually speaking, this game is a gem.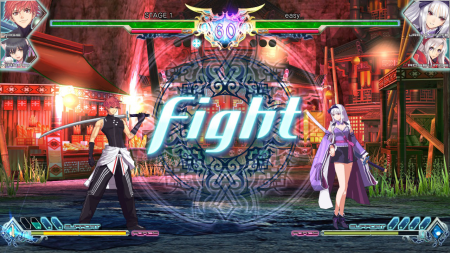 It's a 2D fighter masterpiece in terms of appearance and the character designs are phenomenal. Most of those designs are from famed character designer Tony Taka who is mainly known for the Shining Series as well as several R18 Erotic works. You might not know him for the latter though, as they've been published mainly in Japan.
While the female characters are not overtly sexy here, they are however attractive enough to be liked – provided that you are familiar with who they are in the first place. As I said above, Blade Arcus is purely a fighting game with a bare story mode that mainly focuses on the two game-original characters Ryuga and Wang Bailong. So don't expect any profound character development in this game.
Easy, uncomplicated controls, standard fighting gameplay
The controls are fairly easy to grasp, and the best part about them is that they are not too overly complicated. Anyone can start the game and start playing on the get-go. Even so though, I recommend getting to know the intricacies of the game before actually playing it. The game ships with a manual that everyone should read because not only will it help answer some FAQs, it will also allow you to familiarize yourself with Blade Arcus in ten minutes or less.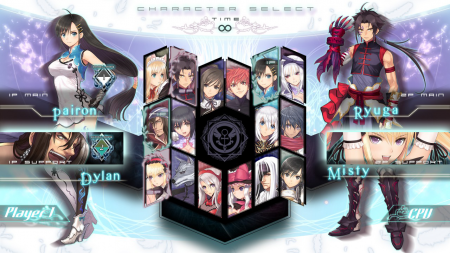 And much lithe controls, gameplay is fairly simple here. Blade Arcus is a 2D  fighting game not unlike the classic SNK and Street Fighter games. Simply: if you play these kinds of games often, then you know what to expect. You know the score, you input some pre-programmed commands and execute flashy moves that look great.
Most of the combos feel natural because the flow is not too overly complicated, which is nice. I have seen some play from more advanced players than I, and it seems too hard to execute. That might seem contradictory, but it takes some practice to get to know the more advanced moves in Blade Arcus. And of course, some dedication to execute the harder combos, though the pay-off is huge.
Localization
There are some aspects of the game that are poorly translated from the native Japanese language. But the character names are there as well as a decent enough menu, so it's not that big of a deal or a hindrance. One thing I have against Blade Arcus though, is that the interface could have been better.
It's good enough to function as it is, don't get me wrong, but improvements would have been nice. It's just kind of… not great.
The (somewhat nonexistent) sounds of battle
While the localization might be just lacking, the audio on the other hand is something that I didn't really appreciate. And by that I mean that it's an extremely mixed bag. As far as the music itself, I have never played the older Shining games. And my point there is that I don't have much to compare it to. Still, fans of the series should recognize some of the more recurring themes in the game, which adds to the value a bit, not to mention that it's a nice nod at times.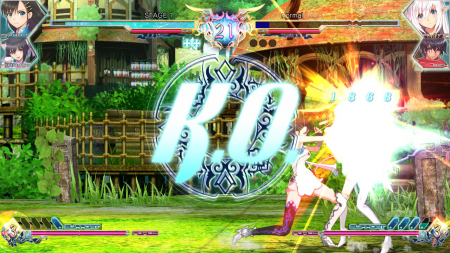 The voice acting, on the other hand…  It's nearly non-existent, and that's not something that I'm used to. Most of Blade Arcus' characters simply grunt and maybe shout some of their signature moves during combat. That's it. Well, to be fair, there are some spoken lines in the story mode. There just aren't nearly enough to leave a lasting impression, or make someone who appreciates that kind of thing (like me), well, appreciative.
2D Fighting Game Goodness
Standard, simple control scheme - 80%
Beautiful, if old school, graphics - 85%
Maybe put some of your own tunes on? - 65%
Brave Arcus from Shining is a great fighting game but the appeal is lost on non-fans of the Shining Series. It's not exactly a great start for beginners like me but the mechanics of the game are fun enough to make it worth your while especially if you're a fighting game fan. Definitely get the game if you're a fan of the Shining Series and/or if you're a fighting game fan.