What's better than your usual assortment of Marvel Comics? Apparently, having cosplayers on the cover.
Return of the cosplayers
So Marvel Comics' cosplay covers proved pretty popular with fans when they first made their presence known, and Marvel is responding with evermore of 'em. As with the first wave too, these aren't hastily slapped-together outfits either. No, these cosplayers are so good, you'll have to look twice.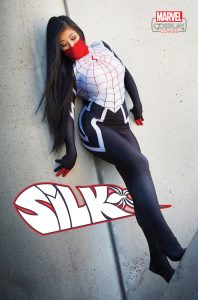 As for Marvel, they're pleased as punch to give this group of super-fans a little time in the sun, and on the covers of some big time books.
"The response to our first set of Cosplay Variants was so incredible, we simply had to do a second wave," says Axel Alonso, Marvel Editor-in-Chief. "And, of course, we were able to find a great crop of cosplayers with some truly fantastic costumes. We're thrilled to shine a spotlight on an ever-growing community that continues to show love for us and our characters."
There are no firm street dates just yet on when you can expect to see these special editions on the racks, but they'll start landing in September. Here's what to expect:
A-FORCE #9 COSPLAY VARIANT by Crystal Melton 
A-FORCE #10 COSPLAY VARIANT by Corrine Vitek
BLACK PANTHER #7 COSPLAY VARIANT by ScorpKing Costuming
GUARDIANS OF THE GALAXY #12 COSPLAY VARIANT by Johnny Junkers
MOCKINGBIRD #8 COSPLAY VARIANT by Lauren Matesic of Castle Corsetry
PATSY WALKER, A.K.A. HELLCAT! #11 COSPLAY VARIANT by DJ Spider
SCARLET WITCH #10 COSPLAY VARIANT by Yaya Han
SILK #12 COSPLAY VARIANT by Rian Synnth
SPIDER-MAN #8 COSPLAY VARIANT by Pierre Demery
THE PUNISHER #6 COSPLAY VARIANT by Mike Powell
THE UNBEATABLE SQUIRREL GIRL #12 COSPLAY VARIANT by Riki 'Riddle' Lecotey
THE UNBELIEVABLE GWENPOOL #6 COSPLAY VARIANT by Alana Waffles
THUNDERBOLTS #5 COSPLAY VARIANT by Wesley Johnson
THE ULTIMATES #11 COSPLAY VARIANT by Knobel Creations