Crash Bandicoot won't be the only big name coming to Skylanders in playable form. He'll be joined by his nemesis, Neo Cortex and none other than the series' usual big-bad – Kaos.
Crash's Skylands adventure expands
While we already knew for some time that everyone's favorite marsupial would be coming to Skylanders Imaginations. We've got a bit more news on the rest of the cast as of today. Not only will there be new proper Skylanders for this new outing, but they'll be joined by a quartet of super-villains.
Three of those baddies will be native to the Activision toys-to-life action platformer, while one comes direct from Crash's own series. He's probably the one that you'll most want to hear about since he's Dr. Neo Cortex. Not only did this tiny terror create Crash, but he's also a grade 'A' evil genius, and will have his trusty blaster at his side. He can also summon the Uka Uka mask to use on Kaos' forces. I assume that, while Cortex is as evil as Kaos, his motivation here is probably to one-up Skylands' hometown menace. You know, to prove who's the evil… est.
And speaking of Kaos, I don't write get his involvement as a playable figure/character. So far anyway, it certainly seems as though he'll be the game's heavy once again, so is he fighting himself? Is this a good clone of the lil' guy? Eh, either way, it's cool to finally have a Kaos in there.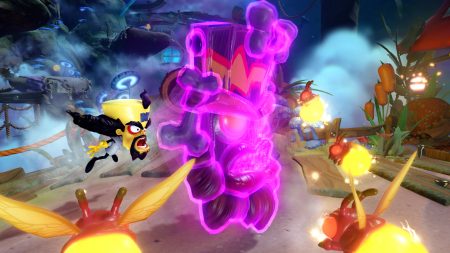 Here's the full description of the new announcements, straight from Activision
Kaos: Kaos will be available as a fully-playable Skylander toy for the first time, and will be able to be controlled by Portal Masters as they wield his evil skills for good
Crash Bandicoot®: Celebrating his 20-year anniversary, pop-culture videogame icon Crash Bandicoot returns in 2016 in Skylanders Imaginators. Crash Bandicoot maintains his unique and quirky personality as a fully-playable Skylander Sensei and toy. Never one to shy away from danger, the legendary marsupial Crash Bandicoot travels through the wormhole to join the Skylanders in the ultimate battle against Kaos!
Dr. Neo Cortex: Crash Bandicoot's creator and primary antagonist, Dr. Neo Cortex makes his debut appearance as part of the Skylanders Imaginators line up. Fighting alongside the Skylanders as a powerful mystic warrior, Dr. Neo Cortex puts his dastardly genius to work with his signature blaster ray, hoverboard and explosive mines to thwart Kaos' forces. He can even summon the powerful Uka Uka mask!
Dr. Krankcase and Hood Sickle: One-time villains-turned-Senseis characters Dr. Krankcase and Hood Sickle are among the latest in this year's toy line-up to be unveiled. They can be seen and played at Gamescom
All this evil comes at a price… or not
Activision has also announced a special deal today, where fans can get the Kaos figure for free. Yes, apparently crime doesn't charge. Well, not if you pre-order anyway.
That's right, if you pre-order and then buy a copy of Skylanders Imaginators before launch, you'll be taking home the Kaos Sensei figure gratis. The toy is 'while supplies last' of course, and I imagine he'll be gobbled up pretty quick once the game hits. So you know, try and pick up your copy early.
Skylanders Imaginators hits the streets on October 16 in North America, but on the 14th in Europe, and even earlier – on the 13th in Australia/New Zealand.