Variants aplenty were all over the Square Enix booth at Comic Con. Marvel and DC took the spotlight, but Gears of War was there as well.
Some of the best figures out there in terms of imagination and possibility, Square Enix consistently has some of the worst lighting anywhere. I say this so that when you look at the shots, you don't wonder why you can't really see anything. I tried, believe me I tried, but it's hard to get a pic that's worth anything. Really.
A lot of what you'd expect, and a bit of newness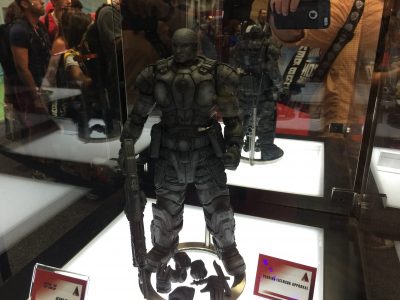 Complaining out of the way though, there was a ton to like here. Not only were there the usual assortment of DC and Marvel variant figures on display, but we get a brief one figure look at what's to come with Gears of War.
Gears has had a pretty nice history with figures, thanks to NECA, but I'm more than a little stoked to see what Square Enix does with the license. Can't wait. For now though, we'll all have to settle for this unpainted Marcus Fenix prototype. Looks pretty good so far though!
As for Marvel and DC, I mentioned that there were a bunch of great figures and there were. Spider-Man, Thor, Cap, Venom, Batman, and Catwoman were all looking cool. Don't take my word for it though, scroll on down… and squint a bit. You might actually be able to make something out.