Fresh from San Diego Comic Con, Icon Heroes once again has their stock of exclusive items on offer.
SDCC exclusives, but not at SDCC
It can be inhumanly difficult to get in on the exclusive offerings from most companies as goes SDCC. If you actually manage to get into the show, you're likely to wait on line for upwards of an hour to nab what you want. And if you don't go, well, good luck there buddy. Unless you're looking for something from Icon Heroes that is.
The collectible maker has announced that a limited stock of their exclusive goods is once again open to the public, via their website. So no lines or tired feet are required to get these bad boys, just a little old fashioned clicking. Or tapping I guess, if you're on mobile. …you get the point.
Hit this link here to get in on the good stuff.
Here's what's still available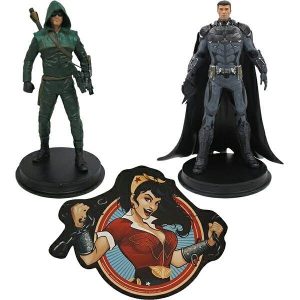 Arrow TV Season 2 Statue Paperweight
The forces of evil (and disorganized paperwork) don't stand a chance against The Arrow Statue Paperweight! Standing approximately 8 inches tall, cast in high-quality resin and expertly painted, this statue paperweight features the iconic costume Stephen Amell's Oliver Queen wore in season 2 of The CW's hit show, Arrow! If you work in an office, topping your co-workers' desk décor is a constant challenge, so this is one decoration that never misses the mark!
Price: $49.99
Batman: Arkham Knight Batman Unmasked / Battle Damaged Statue Paperweight
After a long day at the office, perhaps you look a little worse for wear … well, now your desk can reflect your mood with the Batman: Arkham Knight Batman Unmasked/Battle Damaged Statue Paperweight! Standing approximately 8 inches tall, this statue paperweight features the Dark Knight unmasked, revealing the steely gaze of billionaire Bruce Wayne! The amazingly detailed costume is expertly painted, detailed with various "battle damage" from Batman's war on crime. This paperweight is made from high-quality resin, and stands ready to tell your co-workers it's been a rough day!
Price: $49.99
DC Comics Bombshells Wonder Woman Mouse Pad
Who couldn't use a few more Bombshells in their life? Well, Icon Heroes is making that possible with the new Wonder Woman DC Bombshells Mousepad! Based on art from the hit DC series by Marguerite Bennett, this amazing mouse pad features a stunning image of Wonder Woman in all her Amazonian glory! Measuring 11″ wide and 8.5″ tall, this mousepad is a must-have for Wonder Woman fans!
Price: $12.99