Slime is the theme for Comic Con exclusives this year as far as nickelodeon is concerned. The network will have vintage Double Dare tees on hand, some awesome TMNT stuff, and more.
Okay, so not everything nickelodeon will have on offer at SDCC fits with the slimy theme, but some does. Kids gameshow Double Dare made its living off of goop after all, and the TMNT kind of live in the stuff. You know,what with the sewers and all.
Aside from the gacky glop though, there's more than enough stuff on sale at the booth formats kinds of fans. You'll find a Legend of Korra statue on hand, as well as more 90s throwback tees from shows like Rugrats, Hey Arnold! and more.
Scroll on down for the full listing. Going to the Con and want to pick up some of this gear? Then you want to head over to booth #4113 on the show floor. Just uh… mind any slime you might come across.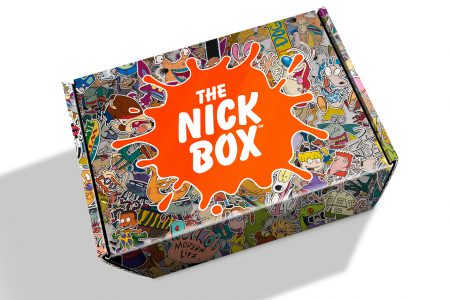 The Nick Box
The Nick Box is a curated assortment of exclusive items from popular Nick '90s shows including The Ren & Stimpy Show, Rugrats, Hey Arnold! and CatDog.  This initial box includes a 4.5" Reptar Vinyl, a ceramic glazed Stimpy-molded mug, a 9" plush of Spunky from Rocko's Modern Life and more. Following SDCC, The Nick Box will be available as an exclusive subscription service at www.thenickbox.com, where consumers can sign up to receive additional boxes per year.
SRP: $50.00
Playmates Exclusive Bebop with Warthog Trike
Straight out of the theatrical film Teenage Mutant Ninja Turtles: Out of the Shadows comes this exclusive Bebop and Warthog Trike from Playmates. It takes a big bike to move this warthog around, and the movie-inspired chopper was created by Paul Jr Designs. With two rocket grenade projectiles and custom vacuum-metallized "chrome" finishes, this alternate deco Bebop features a collector window-box packaging with outer sleeve. This is a SDCC exclusive in a limited edition of 500.
SRP: $30.00
Kidrobot Exclusive Triceraton
Kidrobot brings the fan-favorite Triceraton to life with a brand-new medium figure. Triceratons are a kick-butt alien race from the original '80s Teenage Mutant Ninja Turtles series. This figure, coming in the SDCC exclusive green colorway, is perfect for any Teenage Mutant Ninja Turtles fan. Cowabunga, dude!
SRP: $40.00
Kidrobot Exclusive Shredder
Kidrobot introduces the menacing Shredder to SDCC with a brand-new medium figure. In the Gold SDCC exclusive colorway,  Shredder is designed in the style of the original '80s Teenage Mutant Ninja Turtles series. Get shredding!
SRP: $40.00
The Loyal Subjects Exclusive Raph vs. Slash Two Pack
The Loyal Subjects SDCC Exclusive Two Pack featuring Slash and Raphael is influenced by the '80s Toy Color versions and features up to nine points of articulation per collectible, plus multiple and interchangeable accessories. It includes an ornate and resealable window box with insert card. This Two Pack is limited to 300 and is the only way to complete the Toy Color versions of all Turtle Heroes.
SRP: $30.00
Dark Horse Exclusive Korra Statuette
The strong-willed Avatar Korra is beautifully captured in this majestic pose from The Legend of Korra. This variant sepia version of the original Dark Horse full-color edition is available only at SDCC from Nickelodeon in a limited edition of 300. Each 8" hand-painted polystone statuette is hand numbered and includes a certificate of authenticity.
SRP: $80.00
Dark Horse World Premiere Aang Statuette
As the Avatar of his time, Aang is the only one capable of using all four bending arts: earth, water, fire, and air.  This statuette captures Aang in a heroic pose from Avatar, the Nickelodeon animated series and Dark Horse comics. This first-edition Aang statuette is making its world premiere at SDCC. Each 7" hand-painted polystone statuette is hand numbered in an edition of only 150 and includes a certificate of authenticity.
SRP: $80.00
Apparel
Nickelodeon '90s T-shirts
Hey Arnold!
All That
Double Dare Red Team
Double Dare Blue Team
Legends of the Hidden Temple
Rugrats