We haven't been keeping up on our Tekken 7 since E3, so here are a few screenshots for your perusal.
Landing on the Xbox One and the PC, Tekken 7: Fated Retribution is already looking pretty cool. The story of this latest tournament centers on the Mishima clan (who else?) and could be a bit of a throwback.
Publisher Bandai Namco is saying that the game "returns the storied fighting game franchise to its purest form". What's that mean? Well, a lot of fists and kicks thrown and some (virtual) broken bones of course.
While the fighting game might play like the classic Tekken you all know and love though, there's one element that's decidedly not. And I'm talking about Akuma there. Worked into the story in a seemingly integral way, Street Fighter character Akuma looms large.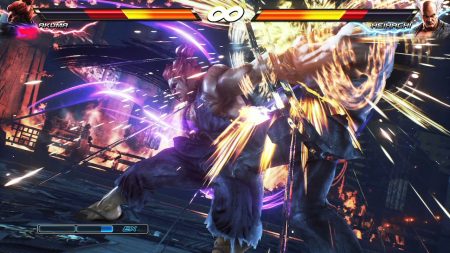 Akuma x Tekken
The Raging Demon has been in a bunch of screens and trailers for the game, and is kind of impossible to ignore. I mean, he's kind of being played up as though he's a Tekken staple. I'm not complaining about that mind you, since he's a pretty awesome character, it's just odd.
This isn't the first time that the two series' have crossed-over however. Remember that Capcom's Street Fighter x Tekken plopped both rosters in a single game based on the SFIV engine. There was also supposed to be a reverse game made by Bandai Namco (with a more 'Tekken' combat scheme) that never materialized. So maybe this is an evolution of that? Either way, it's neat and I can't wait to see the game (and Akuma) in action.
Of course, there'll be new Tekken universe fighters to play as as well. Kazumi Mishima, Claudio, Josie, Shaheen, Katarina, Lucky Chloe, and Gigas all join the usual crew for one-on-one scrapes.
As to when you'll be able to finally play Tekken 7, there's no firm launch date as of yet. You can count on it hitting some time in early 2017 though.