EA Sports have a dilemma. With so many footballers on their payroll, they can not quite decide which perfectly chiseled face to plaster over the cover of FIFA 17. Chelsea's Eden Hazard? Maybe, but he is coming off a pretty rough season. Manchester United's Anthony Martial? Sure, although Rooney might sulk a bit. Real Madrid's James Rodriguez? I don't know, I am pretty sure you don't spell Ronaldo that way. Borussia Dortmund's Marco Reus? Possibly, especially if he comes in a shade of red.
Annoyed by the lack of a four-sided coin, EA decided to let fans pick who they want staring back at them from a shelf all year. Starting from TODAY,  July 5, 2016, fans can vote for their favorite of the four EA ambassadors on the FIFA Cover Vote Website, with the winning player getting the cover. The vote will last until the 20th of July, with fans being allowed to vote once a day.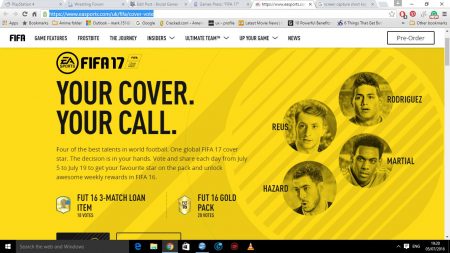 Fans can also show their support for their chosen marketing tool via twitter. A simple tweet with the athlete's hashtag (#FIFA17Hazard, for example) is all that is required (although it is not clear if this counts as a vote or free advertisement for EA).
EA Sports will announce the winner in July on the official Cover Vote website.