Dynamite Comics is getting into the art book game. Hitting bookstores later this year is a grand tome dedicated to the one of the original home gaming companies – Atari.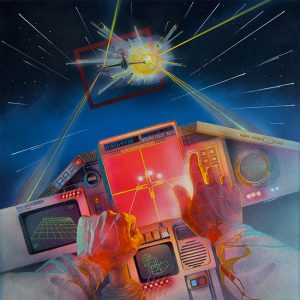 If you're a game fan of an *ahem* certain age, then you know Atari well. Actually, now that I think about it, even if you're on the younger side, you probably know the company pretty well. After all, there are no shortage of collectable 'retro consoles' out there. You know, the ones with all the games built-in?
That's beside the point though, since we're talking art here. Somewhat unusual for Dynamite I think, their latest announcement is for the Art of Atari deluxe art book. While they might not crank out art tomes like some other pubs, this one nonetheless looks pretty fantastic.
"Before Atari, entertainment was something you only observed. Atari fearlessly revolutionized entertainment, transforming it into an interactive experience. Our world would never be the same again," says Nick Barrucci, Dynamite CEO and Publisher. "Publishing ART OF ATARI is a high point in Dynamite's publishing history, as we honor the visual history of a bold innovator. Since announcing the project, we've received an overwhelming response of heartfelt excitement from the gaming community. For the most hardcore enthusiasts out there, we hope that our Deluxe Edition — with its many bonus features that include extensive game downloads — delivers a fun and colorful experience every bit as enjoyable as that electric feeling of having a joystick in hand."
Extras abound
Clocking in at 350 pages, you'll find "hundreds of production/concept illustrations, photographs, video game packaging, and groundbreaking advertisements" included. Even the packaging and binding is awesome. The slipcase is designed to look like a classic game box, and the leather binding is crafted to look like a cart. Pretty awesome.
It doesn't stop there either. Included with the book is a framable print of art from Cliff Spohn. He did plenty of the illustrations for Atari in their heyday. On top of that, you'll also get a code for the Atari Vault on Steam. Included in that pack are 100 of the most iconic of the company's games.
All in all, that's a pretty fantastic package, whether you're a fan or a lover of classic gaming. You'll be able to get a copy of Art of Atari this coming October, it'll cost you $99.99 USD.