Gamesrepublic.com have launched a Summer Sale, with a large array of AAA and indie digital titles receiving a slash on their price. The site promises 10 days of bargains, more than 200+ different titles and up to a 90% discount.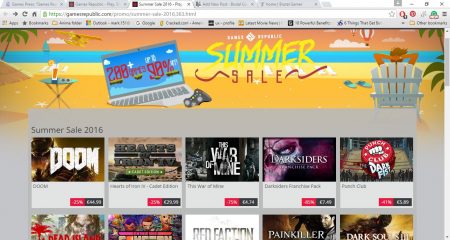 Gamesrepublic.com, the PC digital gaming store run by 11 bit studios, receive all their keys directly from the publishers and most are available as Steam codes. The current batch offers discounts on recent titles including Doom (-25%), Dark Souls III (-25%), The War of Mine (-75%) and Homefront: The Revolution (-23%).
Older franchises/titles receive much larger discounts, as would be expected. Highlights include Darksiders Franchise Pack (-85%), Red Faction Collection (-90%) and Painkiller Complete Pack (-90%).
New customers to the site can also receive a free copy of the tower defense game, Anomaly: Warzone Earth, with their first purchase.
Gamesrepublic.com is just one online store providing a huge summer sale. The ongoing GOG.com and the highly anticipated Steam sale being the two biggest gaming events of the summer.
The sale ends on Sunday, June 26th, at 23:59 CET.