One of the biggest internet gaming retailers around, it's always a marquee event when GOG.com holds a sale.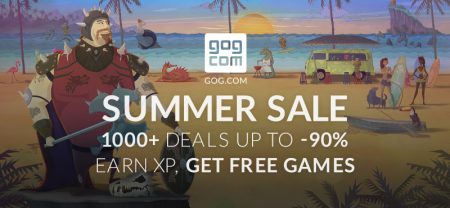 So listen, you didn't really want all that cash you've got in your wallet, did you? Honestly, if you're a PC gamer, then I already know the answer to that is 'no', since it's officially Summer Sale time once again. And leading the way this year is none other than that DRM-free paradise known as GOG.
Kicking off today and spanning a total of two weeks, the Summer Sale new games premiering on GOG, as well as a "1000+ deals" . As usual, there's a unique hook too, where you'll be able to collect XP to unlock new deals and other fun things.
Collecting XP is pretty easy, and only requires that shoppers check in on GOG daily, participate in activities, and buy some games. Doing some or all of that will help unlock freebies like Spelunky, Gabriel Knight: Sins of the Fathers – 20th Anniversary Edition, and Dreamfall Chapters Season Pass.
Kicking things off? A giveaway of the classic PC horror icon- System Shock 2. The game is being handed out to gamers as a way to test GOG's new GOG Galaxy online gaming platform. While you won't see this deal live on the site, getting the game is simple; all you need to do to get a copy is to visit the sale through Galaxy, and claim your prize.
Also to start things up in royal fashion, is a sale on the recently added Homeworld Remastered. Right now this classic RTS is half the usual asking price.
Click here to get in on the savings. The GOG Summer Sale runs through June 22nd at 8:59 eastern time.