While we have seen that Guerrilla Games will unveil more information about their upcoming title Horizon Zero Dawn at E3, it is still up in the air as to what  they will unveil…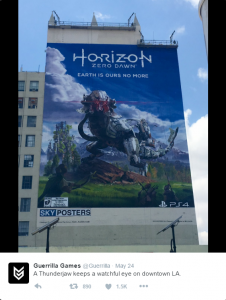 On Tuesday, May 24th, well ahead of the 2016 Electronic Entertainment Expo (E3), Guerrilla Games unveiled the first of several banners to grace the Los Angeles area regarding their upcoming unveilings.
This one, in all it's massive size, displays a Thunderjaw, the known title of Horizon Zero Dawn, and a new motto of "Earth Is Ours No More". Though what does this mean? Those of us who have been following Horizon Zero Dawn are familiar with these mech-beasts and their futuristic world. So "Earth Is Ours No More" is not necessarily anything new… I guess we will have to wait and see, on that front.
Another detail that is shown (or rather, not shown), is the 2016 release date. While the lack of a date on the banner is nothing concrete, it does raise the question of whether or not this is a hint at the game being delayed.
Keep your eyes and ears open, as Sony and Guerrilla Games should have more information coming the week of June 13, 2016!