We have known for some time that pre-orders for your video games has been part of the gaming landscape. Pre-order today and recieve extra levels, unique weapons, XP bonus, etc. Some people enjoy these, others see them as overrated hype.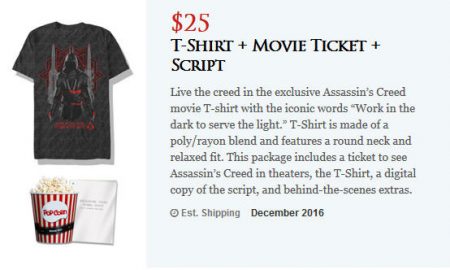 Until recently however, this has been unique to video games. And then there was Assassins Creed. Following the typical Ubisoft style, there are several price options, from $15 to, I hope you are sitting down, $1,200!
Depending on the strength of your bank account and the choice of your pre-order, you could recieve a digital copy of the script, a t-shirt, scale statue or even a replica prop for your movie experience.
Assassin's Creed stars Michael Fassbender, who plays two roles: Callum Lynch and his 15th century Spanish assassin ancestor Aguilar. The film is directed by Justin Kurzel, who directed the critically acclaimed 2015 filmMacbeth. Marion Cotillard, Brendan Gleeson, Michael Kenneth Williams, and Jeremy Irons are also appearing in the film.
The movie will also include references to the games, as the guillotine gun from Assassin's Creed Unity and items from Assassin's Creed: Brotherhood, Assassin's Creed III: Liberation, and Assassin's Creed Chronicles: China will also show up in the background of some scenes.
source: mcvuk.com