Bound all into one glorious hardcover edition, Udon's Street Fighter Unlimited Vol. 1 is on the way.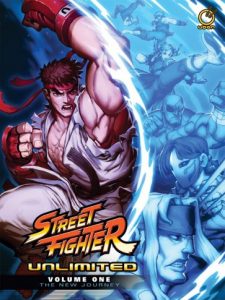 A monthly book that's been running for a short while now, publisher Udon's Street Fighter Unlimited tells an original tale that starts Ryu as he embarks on a quest to "gain control of the Satsui no Hadou". While the best-known street fighter is the star though, don't think that the series has been limited in any way as to the number of World Warriors that have appeared. Udon touts a huge cast of characters for the book, including Chun-Li, Guile, and Cammy who have their own arc that sets them against (Street Fighter IV villain) Gill.
Writer and artist Ken Siu-chong and Joe Ng have been bringing the book to you every 30 days, but if you haven't been keeping up, then you're going to like today's announcement. The new hardcover edition contains the first four issues, complete with guest stories by talent like "Edwin Huang, Jeffrey Cruz, Sarah Stone, Jim Zub, Adam Warren, and Omar Dogan".
The volume also has a brand new cover illustration by Edwin Huang and Genzoman and a never-before-seen six page story by Hanzo Steinbach. This one should be a ripper too, featuring a brawl between two of the series' best-loved baddies, Balrog and Vega.
You can catch all 136 pages of this jumbo edition when it hits retail this coming July. It'll run you $29.99 USD.