Printing Baseball cards for as long as I can remember, TOPPS is into the digital realm in a big way and has issued the first card celebrating 2 Noah Syndergaard homers in last night's Mets win.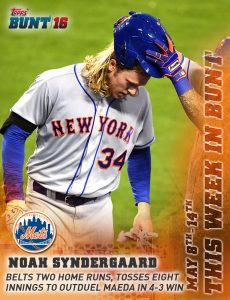 Syndergaard has been in the big leagues for only a year, but has already become one of the best young pitchers in the majors. Called 'Thor' by his teammates and the press at large, Syndergaard usually only brings the thunder from the mound, but last night added a little lightning to his repertoire, bashing a pair of home runs to power the first-place New York Mets to a 4-3 win over the Dodgers.
If that sounds a little crazy to you, it's probably because pitchers generally don't hit too many homers, and hit two in a game on even rarer occasions. In fact, Syndergaard's pair of jacks is only the second time a NY Mets pitcher has accomplished the feat in the team's almost 60 year history. And it's that fact that got him and his two thunderbolts a card, courtesy of TOPPS BUNT.
BUNT is the company's mobile app, from which you can collect cards not just from the present, but also from era's long-gone by. According to the trading card giant, you can pull a "Kris Bryant insert, and a Ted Williams insert all within seconds of one another."
Oh and uh, there are just a few cards available with 335 million in the app's catalog right now. Not enough for you? Well, you're insane, but you can also expect that number to climb to about half a billion by the this year is out.
Interested? You can grab a copy of the app here on the iOS App Store or here on Google Play.