Deep Silver releases a fresh infusion of screenshots for the incoming Dead Island Definitive Collection.
Stalled out a bit on the production of the second (numbered) game in the series, Dead Island has something new heading to stores anyway… well, sort of. Dead Island Definitive Collection includes the first game and the semi-sequel (Dead Island Riptide) as well as a third, brand-new game, called Retro Revenge that looks like it could be lot of fun.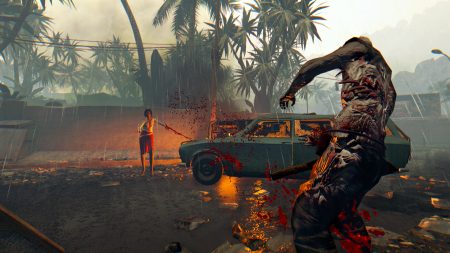 While you won't see any of that new game in this batch of screens for the collection, you will get a sense of what the games will look like running on current-gen hardware. Though there's more to this re-release than just that. Aside from the new game included, quite a bit has been added to the DI experience including:
Higher Quality Textures
Game textures have been redone in a higher resolution and the level of quality has been improved across the board
Photorealistic new lighting system
The lighting system in the game has been vastly improved, providing a much more realistic look to the beautiful sunny tropical setting
Physically based shading
The introduction of new physically based shading techniques means a higher quality look to the game models and objects as they react in a more realistic way to various lighting conditions
Image quality enhancements via anti-aliasing
The addition of more sophisticated anti-aliasing means that console players can now experience a much cleaner look throughout
Improved-quality game models and geometry assets
All major geometry assets (i.e. NPCs and character models) highlight a marked quality increase
HBAO and motion blur effects
The introduction of Horizon-based Ambient Occlusion adds an extra layer of depth and realism to the world. Through a better implementation of object shadows and the all-new motion blur effects, players will get a much more cinematic feel to the game experience.
Updated game UI
The updated game UI provides a more consistent look for Dead Island and Dead Island Riptide 
The Current-gen Console Experience
The Dead Island Definitive Collection will also of course take advantage of the latest console features such as Online 4 Player Co-op, PS®Vita Remote-Play (PS4(TM)), Share-Play (PS4(TM)), streaming and recording
Power Fists Power-up
And last but not least, the fan favorite unofficial PC mod will also now be added to both products. Punch your way through the mayhem with craziest power-up ever!
Check out the gallery below for more, and then watch for Dead Island Definitive Collection in stores for the Xbox One, PS4, and PC on May 31st for just $19.99 USD.