New Paper Mario, Tokyo Mirage Sessions #FE release date, and SNES games on New 3DS Highlight.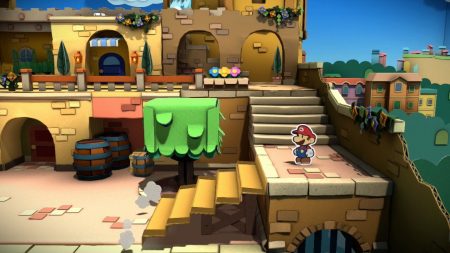 Today's Nintendo Direct brought release dates and surprises, with a second helping of the former.
For a start, the surprises: Paper Mario: Color Splash comes to Wii U.  Prism Island is being drained of its color, and Paper Mario will have to bring color back with his Paint Hammer.  Crisp paper craft visuals will no doubt be combined with stellar music, but early footage shows no suggestion of what fans have been clamoring for: a deep-storied RPG with fresh characters, a la The Thousand Year Door.
Monster Hunter Cross is coming to the United States as Monster Hunter Generations, and players with Monster Hunter 4 Ultimate save data will receive bonus content.  Monster Hunter 4U is also available for $19.99 for just a few days.  Generations will also receive a Marth (from Fire Emblem) based armor set.
Rhythm Heaven Megamix is coming this year, with over 100 Rhythm games, 70 of which come from classic games, including the GBA one that never came to America.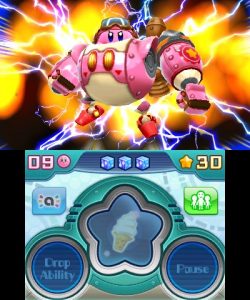 Kirby puffs up to the occasion again, bringing "robo bot" armor and co-operative boss fights with him, in Kirby Planet Robobot.  The Robobot armor has several modes of its own that aim to mix up the gameplay.  The co-op boss fights come as part of Team Kirby Clash mode, where-in 4 players work together utilizing different roles to beat a boss.  The mode also supports Download Play and AI companions.  The game supports amiibo, including some character specific power-ups (fire for Mario, Sword for Link).  New Kirby series amiibo were also announced, including a new Kirby, Meta Knight, Dedede, and Waddle Dee.  The game will launch on June 10th.
Star Fox Zero is closer to Star Fox 64 than originally revealed, mirroring the game's multi-path story, and the game will also feature a very basic cooperative control mode- wherein one player shoots with the Gamepad, and the other controls the Arwing with a Pro Controller.  The Project Guard from two E3s ago is now Starfox Guard, and comes packed in with the physical edition of Star Fox Zero.
Splatoon will be updated with balance changes to abilities, new Splatfest elements, and changes to Ranked Matchmaking.  New weapon set recommendations will also come in two parts, and the first comes out in April.
Mario Maker is also getting an update that adds Skewers, Keys, Key Doors, and Pink Coins which allow for mandatory boss battles and forced exploration.  The game will also feature a Super Expert mode, which rewards players with new Mystery Mushroom characters upon completion.  The Bookmark site will also add new rankings.  The update will be available March 9th.
SMTxFE has its official title: Tokyo Mirage Sessions #FE, and features the original Japanese Voice Track with English subtitles, and comes out June 24th.
The New Nintendo 3DS is also receiving SNES titles, starting with Pilot Wings, Super Mario World, and F-Zero on today.  Later titles include Super Mario Kart, EarthBound, Super Metroid, Donkey Kong Country, The Legend of Zelda: A Link to the Past, and Donkey Kong Coutnry 2. No word on price or cross-buy, and as the latter wasn't mentioned, we can assume it won't be a feature, across with the Wii U.  The $1 upgrade from Wii purchases also wasn't mentioned as an option.
Players who buy an amiibo from participating realtors will get early access to Mini Mario & Friends: amiibo Challenge (including Best Buy, GameStop, and amazon.com).  Otherwise, the game will be available to download for free in April.
GameFreak is releasing solitaire and horse racing combination Pocket Card Jockey in May, and players will be able to level up horses and breed new ones on the 3DS.
Hyrule Warriors Legends comes to 3DS systems soon.  The port of the Wii U game will come with 4 packs of DLC to be released throughout 2016, and a season pass will be available on launch day.  The season pass will net players an exclusive Ganondorf skin.  Players who pick up the game on launch day will also get a Hyrule Warriors Legends theme for their 3DS home menu.  A transfer code that comes with the game will allow owners of the Wii U version to use the newest characters, including Tetra, Linkle, Skull Kid, King Daphnes, Toon Link, and Ganondorf with his Trident Weapon.  Lastly, preorders from Gamestop are rewarded with a softcover, 16-page Character Book.  Medli is also coming for free to both 3DS and Wii U versions of the game.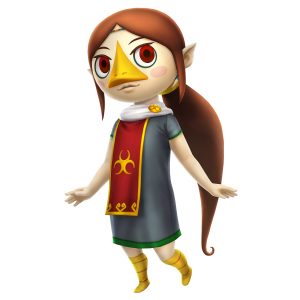 Metroid Prime Federation Force, Kensuke Watanabe promises, is "a game that absolutely belongs in the Metroid Universe."  The 4-player co-operative title allows players to select sub-weapons based on a weight limit in order to fulfill different roles.  The game will launch late Spring of this year.
The release dates are as follows:
March 3rd: Pilot Wings, Super Mario World, F-Zero on New 3DS VC
March 7th: Bravely Second Demo Early Access via Best Buy Gamers Club
March 9th: Mario Maker Update
March 10th: Fire Emblem Fates Revelations
March 10th: Bravely Second End Layer Demo
March 18th:  Mario & Sonic at the Rio 2016 Olympic Games
March 18th: Pokken Tournament
March 24th: Super Mario Kart, EarthBound, Donkey Kong Country on New 3DS VC
March 25th: Mini Mario & Friends: amiibo Challenge Early Access
March 25th: Hyrule Warriors Legends
April 14th: Lost Reavers Beta
April 14th: The Legend of Zelda: A Link to the Past, Super Metroid, Donkey Kong Country 2: Diddy's Kong Quest on New 3DS VC
April 15th: Bravely Second: End Layer
April 22nd: Star Fox Zero
April 28th: Lost Reavers
April 28th: Mini Mario & Friends: amiibo Challenge
May 13th: Disney Art Academy
May: Pocket Card Jockey
Late Spring: Metroid Federation Force
June 10th: Kirby Planet Robobot
June 10th: Animal Crossing amiibo Cards, Isabelle Summer amiibo
June 24th: Mario & Sonic at the Rio 2016 Olympic Games
June 24th: Tokyo Mirage Sessions #FE
Summer 2016: Azure Striker Gunvolt 2
Summer 2016: Monster Hunter Generations
2016: Dragon Quest VII: Fragments of the Forgotten Past
2016: Paper Mario Color Splash
2016: Rhythm Heaven Mega Mix