SEGA isn't just packaging up their 3D Classics for retail sale, they're putting some formerly Japan-exclusive games in there too, and some neat-o stickers for the retro-junkies among us.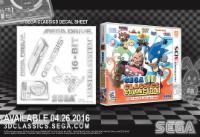 Well, if you like retro stuff and love SEGA's legacy, then there isn't much to dislike about this. Each pre-ordered copy of the SEGA 3D Classics Collection boxed edition will get a sheet of stickers for… sticking. They're actually pretty cool-looking too, with a Genesis and Master System among them. And who wouldn't like to add a big '16-Bit' to the cover of their 3DS? I know I would.
Shaky on what some of that is in the image above? SEGA took care of that with these handy-dandy little bullets.
Here's a quick SEGA history primer on the decals:
Master System logo — Originally released in 1985 as the Sega Mark-III in Japan, the Master System was redesigned and renamed when it launched in North America in 1986 with an added FM Sound Unit.
Master System console — An authentic line-art likeness of the North American/European version of the console!
Mega Drive logo — Originally released in Japan in 1988, the Mega Drive was the 16-bit successor to the Master System. Widely considered one of the greatest video game consoles of all time, the system was home to many classic games such as Altered Beast, Sonic the Hedgehog, and many more.
Genesis logo — Please choose a "Blast Processing" joke to your liking. Are we good here?
Genesis console — An authentic line-art likeness of the Model 1 SEGA Genesis console!
16-Bit — Emblazoned on the front of the Genesis, the 16-Bit logo let everyone know you were working with POWER. Affix this decal to give a blast processing boost to whatever needs it most.*
Professor Asobin -Before Sonic, Alex Kidd, and Opa Opa, this dapper white rabbit appeared in most SG-1000 game manuals and gave helpful advice to players. Although he was briefly replaced by Dr. Games, he soon returned and appeared in game manuals up until the Mega Drive/Genesis era.
SEGA logo – A SEGA decal collection wouldn't be complete without the company logo!
GigaDrive logo – This last logo represents something different than the other ones we've covered because it's a "virtual console." In order for the SEGA 3D Classics Collection to run perfectly on the Nintendo 3DS, developer M2 created the GigaDrive which is how these games take full advantage of the 3DS's capabilities (such as stereoscopic 3D). Read more about the GigaDrive here
*this almost certainly won't work
Yeah it's… it's not going to work. It might look pretty neat on there, but adding a Blast Processing sticker won't actually change your 3DS any… or anything else really. Still though, it would probably look nifty on there.
As to when you  can get started on all this sticker-enhanced fun (note- the stickers don't actually enhance anything. Other than visually, that is), expect to see SEGA 3D Classics Collection for the Nintendo 3DS on the shelves starting on April 26th, 2016. It'll run you $29.99 USD.