Loaded with fast action and tons of blood & guts, the newest trailer for id and Bethesda's DOOM is a joyous sight indeed for fans.
Yep, that's DOOM alright. I'm a fan of the evolutionary course that the franchise took with Doom 3 too, which I enjoyed the hell out of. But even so, I'm a much bigger fan of the original (and Doom 2) and this pretty much is that, just updated and moulded in the form of a modern video game. To put it simply, I need to play this now.
It'll be here soon enough though, and to that end a release date has been confirmed and we have a look at the Collector's Edition and the pre-order bonus for the game.
For starters, the CE will come packed with the game and a steelbook case for it, as well as a TriForce-created PVC statue of the Revenant. No, this isn't Leonardo DiCaprio we're talking about here, but one of the most played-up baddies in the new DOOM title. He's even creepier too, thanks to the stand that this piece is mounted on, which has an LED light built in and an effect that mimics light disruption from one of the massive fans from the Mars UAC base. If you know TriForce, then you know this is gonna be a cool one.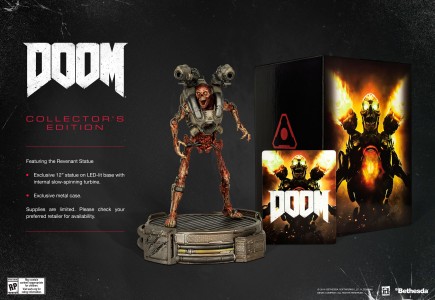 Oh, and that pre-order exclusive is pretty cool too, offering the Demon Multiplayer Pack. The Pack gets you some nice additions to the multiplayer side of DOOM, like "a unique demon armor set with three skin variations, six metallic paint colors and three id® logo patterns that can be applied to weapons and armor, plus a set of six Hack Modules – one-time consumable items that can give you an edge in a multiplayer match."
Ready to go back to hell? DOOM arrives for current-gen consoles and the PC on May 13st. Get your pre-orders in right here.