A mysterious stranger comes to town, one that might seek to turn Emmy's most trusted friend against her.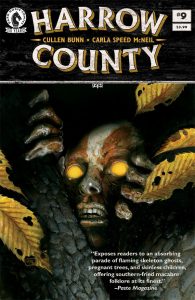 It's not terribly clear what this newcomer wants in Harrow County #9, but I'm pretty certain that it's not good. This issue is a bit different than what's come before, and not just because there may be a new villain in town, but also in that it focuses on the Skinless Boy and not Emmy herself.
I don't want to spoil too much, as there's a pretty awesome twist at the end, but I can tell you a few things to get you ready for what's on the way. Basically, a man comes to Emmy's town and there's something extremely supernatural about him. Whether he's a demon himself, or just a mage of some kind isn't clear at all right now, but he can do some wild things and he's there seemingly just for the reincarnation of the witch named Hester (that's Emmy FYI).
He also has a fixation on the Skinless Boy, Emmy's constant companion and protector. With the mystery man's 'help' SB is shown his true state, just why it is that he's split in two, and how he came to be in the first place. And that leads into the twist I mentioned. Again, it's an awesome swerve, and I don't want to ruin it for you, though it seems like SB is galvanized by what the stranger shows him. It'll be interesting to see what the fallout is going to be for that, and just how the narrative will flow into future issues with the revelations laid bare here.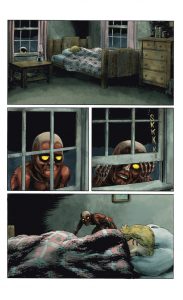 As you might have guessed from all the gushing, Cullen Bunn has penned another awesome supernatural tale with this one. I'm a big fan of this book basically because it somehow manages to tell stories that are truly creepy and based in horror, yet also incredibly grounded on some level, in emotion and the human condition. It's just excellently written.
Matching that is the art by Carla Speed McNeil in this issue. I'm not really clear on whether she's permanently taking over for the series' usual artist Tyler Crook or not, but her style is very similar to his. You'll notice the difference, no doubt there, but it's got the same feel as Crook's and that's a very good thing as Crook's art was a huge part of what made the book so endearing. McNeil's work carries the same sweetness and an almost cartoon quality to it that Crook's does. So A+ on that too. Oh, and Crook did provide the cover by the way, so his fingerprints are still on Harrow County in some way.
Final Thoughts
Harrow County is one of the most unique horror books out there. The characters are memorable and the ideas that Bunn infuses into each issue are almost all just beyond great. this issue is no different, with massive reveals on just who and what the Skinless Boy is, and also as to the level of power that Emmy wielded as Hester in her former life.
And while the series' regular penciler Tyler Crook is off for this installment, you'll barely miss him as Carla Speed McNeil is pretty much equally fantastic. Not to mention, by the way, that the look of Harrow County maintains its feel even with the switch.
It's just great, and if you haven't given it a shot by now… well, you need to.