Marvel Comics' Venom and the Wounded Warrior Project are joining forces to "delve into the trials, perseverance, and eventual triumph of wounded veterans".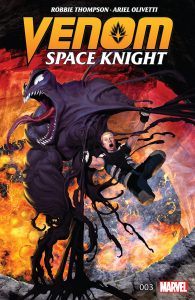 So this is pretty awesome actually. Venom, if you're out of the loop, is Flash Thompson of Spider-Man fame. Not a bully anymore and definitely not in high school, Flash is a vet, and one that has suffered a combat injury. While he kind of re-makes his own legs while wearing the Venom symbiote, outside of the suit he has to deal with all the same things that any wounded service man or woman would. And that's where the partnership with the Wounded Warrior Project comes in.
Double-amputee and WWP spokesman Dan Nevins consulted on this issue with writer Robbie Thompson, the third in the new run for Venom under the Space Knight banner. As such, he brings a unique, and very authentic, bit of input to the book.
"Working with Wounded Warrior Project has been an invaluable part of the process of writing Venom: Space Knight," says writer Robbie Thompson. "Dan Nevins' insight was inspiring, generous and deeply moving, allowing us to create a more realistic character and story for the book. I'm forever grateful for their ongoing help and guidance."
In the issue, Flash ditches the Venom suit that he's so far used to battle the forces of evil alongside of the Guardians of the Galaxy, for a pair of prosthetic legs. As you might imagine, that means he's got a whole new set of challenges in front of him, challenges that Nevins says are not specific to the comic book hero.
"Marvel's team has put so much time and consideration into the development of the Flash Thompson character as he faces this physical and emotional battle that many combat veterans have faced and are facing right now," says Dan Nevins, WWP spokesperson, who consulted on the Venom: Space Knight script. "While the story itself is clearly sci-fi/fantasy, this storyline will bring awareness to the very real struggle of the obvious and not-so-obvious challenges in having lost limbs in combat, and to ultimately showcase the fortitude and resilience of the warriors Flash Thompson represents."
It's also very much worth noting of course, that Marvel Comics and owner Walt Disney in general has worked with vets quite often. They have employed some 6500 returning veterans since Disney's Heroes Work Here program kicked off and 10,000 more vets who work for companies that have visited Disney's Veterans Institute. That's the entertainment giant's one-day outreach program that shows other companies how to start up their own veteran hiring drives.
As for Venom: Space Knight #3, you can look for that issue on the racks and on digital download storefronts as of today from the team of Thompson and artist Ariel Olivetti.