Perfect the art of combat!
So, anyone who has ever played a multiplayer game knows the basic idea, whether its capture the flag, or total annihilation.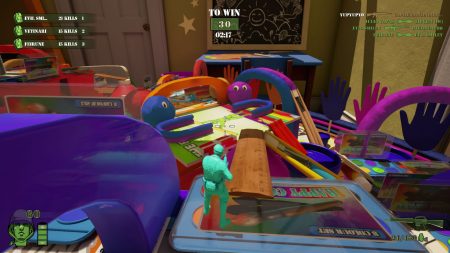 Virtual Basement LLC decided to put a fun spin on this though. Enter the 'little green men' we probably all recognize. Maybe you grew up with them as figures in your basement. Or you remember them from their roles in films such as the Toy Story franchise. Well, this time, you get to lace up those green boots and join their ranks.
Travel back to the .. oh alright, who are we kidding, I expected to find the kitchen, the tabletop and the toybox, but no one expected to be playing multiplayer battles in places like the freezer, inside a fooseball table, or even the bathtub. Give those developers an A+ for imagination.
Join the frenzy as you work your way through 10 very different maps, as well as 10 different scenarios. With 6 different weapons at your disposal, lead your team to victory over your enemies in an epic 5-on-5 battle. Where else can you take cover behind a box of garlic bread, or hurdle a donut to attack your enemy? Duck behind the kitchen knife as you reload? Sometimes you just want to shoot the rocket launcher at the plastic octopus.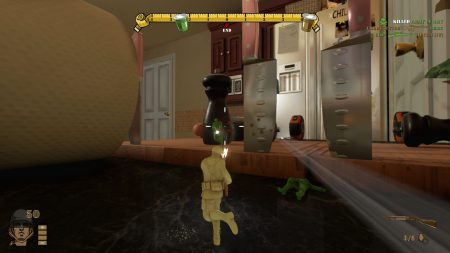 Now I will admit, I don't play a lot of multiplayer games these days. In the past I have created levels for such games, and even took part in gamer-lockins where we would play Unreal, Quake and the like through all hours of the night. These days, I don't have the time for that sort of dedication, and it shows.
Once I get into the game, I can fully expect to be killed the first time within 30 seconds. It happens. Then I am able to acclimate to the rhythm of the game, and even then I am mostly cannon fodder.
While I was just a wandering target, I enjoyed checking out what was stored in the freezer. Wondering why knives were sticking up out of cutting boards in the kitchen? Hazard! And who knew there were dinosaurs frozen in the freezer? I think I want a new freezer please! Now pick up your M-16 and grab your helmet, because you've got some soldiers to deal with.
One of my favorite levels was their version of king of the hill, or in this case, its the Toybox assault. You must occupy the center of the map with the chess piece. Running around on xylophone ramps and racecar tracks has never been more fun. Just don't forget that there are still racecars on those racetracks.
The soundtrack to The Mean Greens: Plastic Warfare sounds like it could easily fit in a Toy Story film, or even a studio production. This may be one of the most robust-sounding game soundtracks I have listened to in a while, and after looking into it, I found that Gareth Coker's official soundtrack is available at several online sources for $4.99, so if that is your cup of tea, then go forth!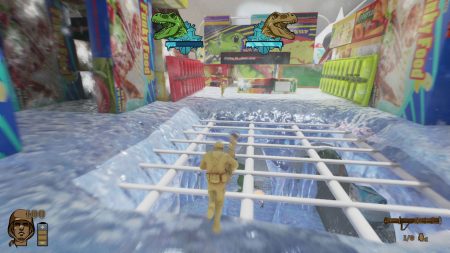 Designed in Unreal Engine 4, this game is a beauty. The team at Virtual Basement LLC really paid a lot of attention to the details that exist in children's play areas. All the bold, mismatched colors in the Art Table Shuffle level, and who would have thought you would have to defend a birthday cake with your life?
Final Thoughts
While I stink at multiplayer games, I had a lot of fun enjoying the creative teams' hard work on this one. The music is stunning, I plan on enjoying it for some time. The visuals are very crisp due to the Unreal engine, the colors pop just as you would find in a child's playroom.
I was able to score a few takedowns amidst all my pitiful deaths, and that was ok with me. I was the freshest n00b in the room, and we all knew it. I just aimed not to be the last on the leaderboard. Though I usually was.
If multiplayer games are your flavor of game, why not check out The Mean Greens: Plastic Warfare? Not many games will give you the opportunity to wave a flamethrower at your plastic enemies.  The Mean Greens: Plastic Warfare is available on Xbox One, Playstation 4 and PC via Steam. Grab your copy today.
This review was based upon a digital copy of The Mean Greens: Plastic Warfare supplied to Brutal Gamer by Virtual Basement LLC.