Landing at retail just after Street Fighter V arrives for the PS4, publisher has both Street Fighter Unlimited #4 and Street Fighter V: Charlie Nash #1 hitting in March.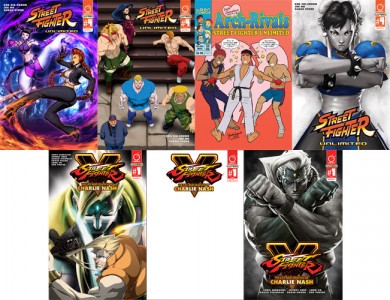 It's a double dose of Capcom's street fighting franchise this March for comic fans with the latest issue of SFU and the first installment of a book based on Guile's best pal, Charlie Nash.
Street Fighter Unlimited has been around for a bit of course, and issue #4 comes from Ken Siu-chong and Joe Ng brings the first arc for the book to a  close. The story features Ryu being haunted by "a ghost from his past" while Guile and his team of World Warriors clash with Vega. Then when you're done with the main tale, you can move onto the backup, which has a four page story from Transformers: Windblade's Sarah Stone. That one has Juri taking on Crimson Viper, so it should be a good one.
And the second issue of the month is Street Fighter V: The Life and Death(s) of Charlie Nash #1. Yes, Charlie was indeed deceased pre-SFV, and one of the main teases for the new game is just how it is that he's back from the dead. In this 48 page giant issue, we'll get a look at the past of this walking deadman. It stars an impressive group of Udon talent too, with scribe Chris Sarracini teaming with artists Jeffrey Cruz, Hanzo Steinbach, Edwin Huang, Long Vo, and Rob Porter.
You can also expect variants for that one with a Black Sketch cover from Jeffrey Cruz and a 'incentive cover' by Steve Mack.