First shown off at NYCC last October, Project TriForce's sculpt of Assassin's Creed's Jacob Frye is finally finished.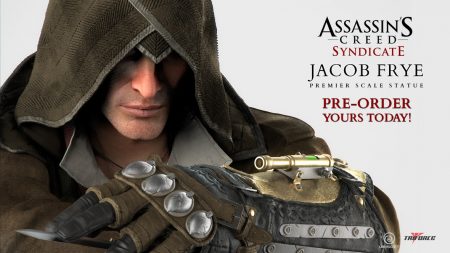 You may have seen old Jake here on the show floor at NYCC and though he was pretty much all done at that point. But you would have been way off in that assumption as Mr. Frye had a bit more to go on the sculpting table.
He's finally in his final form now though, and has had some major detailing since the Con. According to TriForce, the statue has had the addition of muttonchops (sideburns), enhancements to the coat and hood, and some game-accurate facial scars that were absent before.
All in all, he's looking pretty badass and could be a nice addition to the collection of any AC super-fan. The Jacob Frye Premier Scale Statue has an estimated ship-window of the third quarter of this year and will run you a final cost of $650.00 USD. You can order one up for yourself right here on the pre-order page.