One of the best series' of action figures out there right now, Mezco Toyz' One:12 Collective is adding Star Trek: The Original Series to their stable of licenses with the Enterprise's first officer, Spock.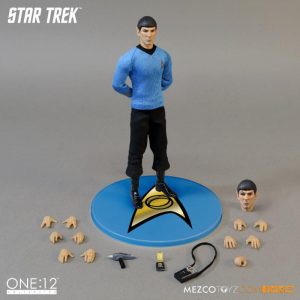 As a pretty big time Star Trek fan, I'm excited. The One:12 Collective is one of the most highly-detailed lines of figures out there at the moment, and features a plethora of accessories included with each figure, and real cloth clothing that looks 'right'. You won't find anything here that's ill-fitting, which is a small miracle when it comes to toys.
Already starring Batman (from The Dark Knight Returns), Judge Dredd, and a few others (with more on the way), One:12 is now expanding into straight-up sci-fi with Star Trek. Spock looks just about as great as you could hope too, with a spot-on likeness of actor Leonard Nimoy. He's expected to arrive for shipment some time in April/May, and you can pre-order right now on Mezco's site.
In the meantime, you can check out the full specs for Mr.Spock below.
First introduced to audiences in 1966, the Star Trek series was a landmark show that sparked in countless fans a love of science, space and technology, and inspired many real world inventions.
Spock, powerfully portrayed by Leonard Nimoy in both the TV series and in the film franchises, embodied a new kind of TV hero: calmly logical, and cerebral but not completely devoid of human emotion. Spock has transcended his genre and has been voted one of the 50 Greatest TV Characters and has recently had a mountain named after him on Pluto.
Digitally modeled to craft an uncanny actor likeness and assembled on a One:12 Collective body with over 28 points of articulation, this figure features a series accurate outfit to create an amazing collectable.
The One:12 Collective SpockÊ features:
Real fabric uniform
Incredible sculpted details capturing the likeness of this complex character
Leather-look screen matched boots
Included with this figure:
Alternate head with arched eyebrow
One "Live long and prosper" hand
One phaser holding hand
One Vulcan mind-meld hand
One Vulcan nerve pinch hand
One set of posing hands
One set of fists
Communicator with flip up panel
Tricorder with opening top section
Display base and posing stand
Each figure is packaged in a deluxe, fifth panel window box featuring character specific artwork and a translucent acetate slipcover. Designed for collector convenience, the packaging has been especially engineered to allow for both maximum protection without sacrificing ease of removal for display.