Are those Christmas bells a-ringing, or gunshots in the streets of Los Santos?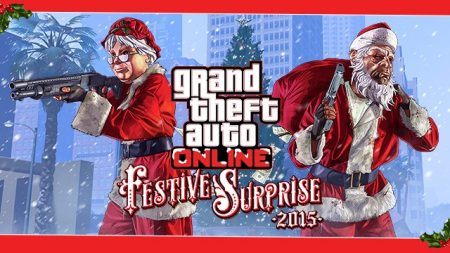 Probably gunshots really. I mean, this is Grand Theft Auto Online after all. Though they are gunshots with a decidedly festive feel to them, so there's that.
Now through January the 5th, GTA Online will play host to a special 'Festive Surprise' package of content. The DLC will be purchasable right along side the packs that saw release last year during the Holidays too, so there's plenty to have a look at and pickup for your Online characters.
Heck, you can even grab a Christmas tree to decorate your apartment with. Here's what's now available:
New Santa outfits and a new collection of snug Pajamas
Masks featuring Mr. and Mrs. Claus, Bad Elf, Crazy Gingerbread, Festive Luchador and more
3 Christmas themed Car Horns
Christmas Trees at Legion Square and in all owned Apartments, Stilt Houses and Yachts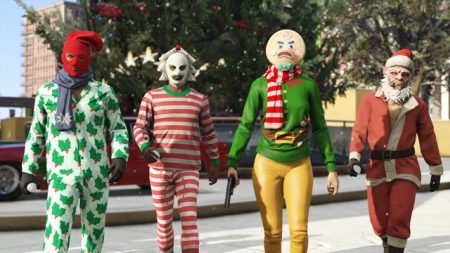 Rockstar says that there's more to come as well, so players should keep an eye out for some goodies during this Holiday week – including a chance for some rare Los Santos snow…
Also worth noting is that you can take some in-game snaps and upload them to the Social Club (before the 5th) for the chance to win a cool million bucks in GTA Online credit. Just take the photos with #FestiveSurprise2015 on the Club and you're entered (official rules are here).