Oh my does Mad Catz have a monster stable of offerings this Holiday Season. The longtime peripheral-maker has some awesome stuff for console and PC gamers both, and for just about any category you can think of.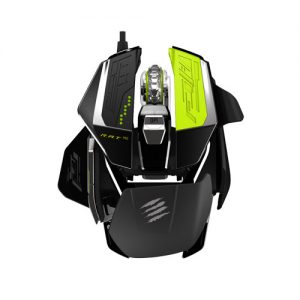 The second entry in our December-long gift guide series focuses on Mad Catz, one of the most prolific makers of controllers, headsets and just about everything else these days. The company has always been one of the foremost names in the industry for console and PC gaming enhancers, though in the last few years they've seriously stepped up their game and shot to the top of most gamer's lists.
Why? Well it's pretty simple, they make some awesome stuff. Simple, but not easy by any means, Mad Catz has produced a series of offerings that hits all the right notes. I've personally bought a bunch of their stuff over the years, and had the good fortune to review some of it right here on BG, and I really don't have to hesitate any when I say that Mad Catz is far and away one of my favorite brands.
As for what's on tap for Holiday 2015, the company has a list for the PC gamers out there that includes the newest in the excellent R.A.T. line of gaming mice, the latest F.R.E.Q. headsets, and even a controller that's specifically tailored to the Farming Simulator series of PC games – yes, that's incredibly specific.
I actually had the chance to try out the F.R.E.Q.TE 7.1 and the R.A.T. PROX Ultimate Gaming Mouse a month or so back, and they're two fantastic additions to their respective lines. I'm used to the R.A.T.'s customizability, but this version blew me away with just how much you can alter the shape and comfort level, no matter who's using it.
As for the newest F.R.E.Q., well lets just say that I have a 'headset problem' and I'm more than a little addicted to bass – something that this bad boy has in spades. It's also equipped with a full-on 'audio landscape' (as Mad Catz calls it) which can be tailored however you like, as well as do a ton of other stuff. How? It's got a USB dongle that houses a built-in sound card. Yes, seriously.
On the console end, you can expect to see some Street Fighter pads for the PlayStation family of consoles, a force-feedback wheel just for Xbox One gamers, and of course – Rock Band 4, which has helped to reinvigorate the resurgent rhythm genre big time.
Of course, mobile gaming isn't left off the table either, as Mad Catz has gamepads galore, and even a mobile keyboard offering to make typing on your magic screen a little easier. Take a scroll down the page to see what's what, complete with links (provided by Mad Catz) to the pages on the UK store (click here for the US store) where you can pick up this stuff for yourself… or someone else. For gifts. *ahem*
PC:

R.A.T. PROX Ultimate Gaming Mouse – $239.99 – http://eustore.madcatz.com/Mad-Catz-R-A-T-PRO-X-Ultimate-Gaming-Mouse-for-PC_2.html?whence=

The world's most adjustable, unique and incredibly advanced gaming mouse,  theR.A.T. PROX has been designed for the very highest levels of competitive play. There has never been a mouse anything quite like this! Already an award winning product when unveiled at CES 2015, the R.A.T. PROX is now available and redefining what is an input device is capable of. The first mouse in the world to feature Modular Sensor Units (MSU), the sensor on the mouse can be removed instantly on the fly and swapped with a different module, affording the gamer unprecedented control. Gamers can remove thumb piece, palm rests, pinkie grips and more, and the R.A.T. PROX comes complete with a raft of swappable components. In addition, the R.A.T. PROX is the world's first mouse to offer Analog Strafe control via the scroll wheel. Now, gamers can delicately push the scroll wheel left or right and be afforded with true analog control, just like a console thumsbstick controller! Pilot a craft, peak behind a wall, all via the scroll wheel of the mouse! Multiple patents and brand new technology make this truly, the ultimate gaming mouse.

F.R.E.Q.TE 7.1 – $144.99 – http://eustore.madcatz.com/mad-catz-brands_EU/mad-catz-headsets-audio-EU/Mad-Catz-F-R-E-Q-TE-7-1-Stereo-Surround-Headset-for-PC-INFO.html

An all-new, highly unique gaming headset. Designed to complement the Mad Catz PC design language, gamers can customise their own 7.1 surround sound audio. Powered via USB which cleverly houses its own sound card, the F.R.E.Q.TE 7.1uses custom software allowing  the gamer to widen or shorten their 'audio landscape'. Gamers can add after effect to their audio, restore lost clarity to compressed MP3 audio, change the audio sampling rate and even disguise the sound of their own voice in game! Want to make your audio sound wider or do you prefer the audio landscape to be more closed in? No problem, you design your own audio custom tailored to your playing preference. Incredible noise cancelling boom mic and 50mm drivers combine to make this headset outstanding value for money.

R.A.T. PROS – $84.99 – http://eustore.madcatz.com/Categories-EU_2/mice-category-EU/Mad-Catz-R-A-T-PRO-S-Gaming-Mouse-for-PC.html

Designed to complement the design language of the flagship xx, the xx is ideal for the tournament gamer who is simply looking for a rock solid, high quality gaming mouse without the bells and whistles. Impossibly lightweight at only 77 grams, theR.A.T. PROS is super durable and incredibly fast, gliding across surfaces with its PTFE feet. On board profile memory allows gamers to save their custom configurations for their favourite games on the mouse itself, ideal when using on a guest PC at tournaments. A favourite amongst professional gamers, the PixArt PMW3310 infrared optical sensor delivers accuracy and stability when gamers need it most. Precision Aim allows gamers to program a custom button on the mouse, slowing down the DPI to a speed of their choice, ideal when lining up the perfect headshot!

 

Saitek Heavy Equipment Precision Control System – $299.99 –http://store.madcatz.com/brands/saitek/Saitek-Heavy-Equipment-Precision-Control-System.html

Truly incredible, the Saitek Heavy Equipment Precision Control System has been designed for use with the world famous Farming Simulator series of videogames   and brings truly accurate, farming controls to fans of the franchise! Designed in conjunction with GIANTS software, this amazing rig brings a whole new meaning to the word 'realism', providing the gamer with all the controls they need to farm in style! The accurately sized wheel provides 900 Degrees of Rotation and a removable Turn Knob for easier one-handed turning. The Vehicle Side Panel arms gamers with all the complex control they need, featuring over 25 Programmable Buttons to Operate their Farming Equipment. Complete with Loader Stick providing Up/Down/Left/Right/Twist Action and Mode Button that Doubles Control Axes, ideal for logging!

 

Saitek X55 HOTAS System – $199.99 – http://store.madcatz.com/brands/saitek/Saitek-Pro-Flight-X-55-Rhino-H-O-T-A-S-System-for-PC.html

The Saitek X55 HOTAS (Hands on throttle and Stick) arms simulation enthusiasts with the ultimate control for flight and space simulation titles. Inspired by controls found within actual fighter planes, the next-gen X-55 Rhino H.O.T.A.S. System delivers a multitude of customizable options never before seen in an H.O.T.A.S. System. Whether flying a modern fighter, single- or multi-engine aircraft, or even a retro single-seat plane, the X-55 Rhino supplies all the control surface options required to achieve the exact level of aerial performance aspiring pilots demand.

Console:

 

PS3/PS4 Street Fighter V Chun-Li Tournament Edition 2 FightStick – $229.99 –http://store.madcatz.com/categories/fightsticks-category/SFV-Arcade-FightStick-TE2-Chun-Li-and-Shoulder-Strap.html

A taste of what's to come with the all-new Street Fighter V range launching next year, the Tournament Edition 2 Chun-Li stick for PS3/PS4 is compatible with all fighting games and offers unmatched quality for fighting game enthusiasts. Complete with the same premium Sanwa Denshi components found in Japanese arcades, the TE2 is a tough arcade stick that's always ready to fight!. The Tournament Edition 2 opens up for access to inner storage and components, providing dedicated storage space for your extra tools and parts. The stunning Chun-Li  artwork can be easy customised further with the included screwdriver tool, allowing gamers to swap in custom artwork without having to remove buttons or fumble with confusing wires, and the strong metal base increases the FightStick's weight for a solid, secure feel when draining your foe's life bar.

PS4/Xbox One Rock Band 4 Band-In-The-Box – $249.99 –http://store.madcatz.com/platforms/xbox-one/Rock-Band-4-Band-in-a-Box-Software-Bundle-for-Xbox-One.html

The award-winning smash hit music franchise is back with a bang and available NOW! The ideal gift for winter parties, Rock Band 4 takes the highest-rated interactive music gaming platform to the next level! Designed exclusively for current-generation gaming consoles, Rock Band 4  delivers the ecstatic rush of a live band performance like never before.  Add your personal signature to every performance through ground-breaking features such as Freestyle Guitar Solos that allow players to create their own legendary solos. Combined with impressive current-gen visual polish and a soundtrack featuring some of rock's biggest acts, Rock Band 4  aims to create the defining music gaming platform for this generation. The Band-In-The-Box includes all you need to get your band together, including:  Full disc version of Rock Band 4 Game Software, 1 x Wireless Fender™ Stratocaster™ Guitar Controller, 1 x Wireless Drum Kit, and 1 x Stage-Grade USB Microphone with 48 kHz Audio Quality and Extra-Long 15ft Cable! YOUR BAND, YOUR STAGE, YOUR WAY!

 

Xbox One Pro Racing Force Feedback Wheel – $349.99 –http://store.madcatz.com/platforms/xbox-one/Mad-Catz-Pro-Racing-Force-Feedback-Wheel-and-Pedals-for-Xbox-One.html

Mad Catz' Pro Racing Force Feedback Wheel and Pedals for Xbox One is the culmination of extensive teamwork alongside racing drivers from every genre of the sport. The wheel and pedals system is a highly realistic racing simulation accessory, ready to mount into your racing cockpit or clamp onto a desk. Operating from the UK – the heart of the global motorsport industry – Mad Catz' engineering team worked with the very best rally car drivers and endurance racing teams. Utilizing incomparable access to progressive testing and training facilities, Mad Catz forged a state-of-the-art system that shifts next-gen racing into top gear. Switchable between 270 and 900 degrees of lock-to-lock rotation, the Pro Racing Wheel is genuinely dual purpose, ideal for arcade-style and simulation racing games. Next-generation Force Feedback with Dual Motors and Helical Gears provides a much higher level of realism than previously possible. Highly adjustable Pedals match the personal racing style of the gamer, mimicking the adjustability commonly found on race-prepared coilover suspension. Ideal for use on your lap, on a desk or when mounted to a Racing Seat, the xx provides a racing experience like no other!

Xbox One TRITTON Kunai Stereo Headset – $79.99 – http://store.madcatz.com/platforms/xbox-one/TRITTON-Kunai-Stereo-Headset-for-Xbox-One.html

TRITTON's officially licensed Kunai Stereo Headset delivers a comfortable stereo gaming experience on the Xbox One console. The Kunai outputs game and chat audio through a pair of precision-tuned 40mm speakers employing neodymium magnets. Boasting simple and intuitive plug-and-play connectivity, the Kunai is an ideal headset for the Xbox One console at a value price that simply cannot be beat!

 

Mobile:

S.T.R.I.K.E.M Mobile Keyboard – $49.99 – http://store.madcatz.com/platforms/Android/Mad-Catz-S-T-R-I-K-E-M-Wireless-Keyboard-for-Android-Windows-Smart-Devices-PC-Mac-iOS.html

The ideal travel companion, the S.T.R.I.K.E.M is the only Keyboard you need for all of your Bluetooth devices. Compact and lightweight, the tablet-sized S.T.R.I.K.E.MWireless Keyboard puts a host of media functions right at your fingertips. Micro P.U.L.S.E. scissor keys provide tactile feedback, while backlit keycaps enhance visibility in all lighting conditions. An Optical Finger Navigation sensor with dedicated mouse buttons is ideal for Internet browsing and playing touch-based games. A suite of dedicated media buttons – play and pause, track forward and back – add convenience to music and video entertainment, plus, an embedded volume dial provides the means for quick and easy audio adjustments. Whether navigating the web on your home-theater PC or streaming media on your phone or tablet, S.T.R.I.K.E.M consolidates control of Bluetooth-enabled devices. Bluetooth Classic provides a seamless connection to smartphones, tablets, Windows PCs, and Mac computers. The keyboard's pairing button quickens the pairing process and establishes a wireless link within moments. After pairing with up to four accessories, detecting each device is very straightforward. A dedicated button will cycle through all paired gadgets and quickly re-establish a wireless connection with the device you select.

iOS – C.T.R.L.i Mobile GamePad – $59.99 – http://store.madcatz.com/platforms/iOS/Mad-Catz-C-T-R-L-I-MFi-Mobile-Gamepad-Made-for-Apple-iPhone-iPad-iPod.html

Offering console-caliber, award winning performance, the C.T.R.L.i Mobile Gamepad delivers traditional gaming controls for devices running iOS 7 or later. Whether at home or on the move with the included smartphone clip, C.T.R.L.itransforms your iOS device into a portable gaming console. Connect your iPhone to your TV with Apple's Lightning Digital AV Adapter and you can enjoy an authentic arcade experience in your living room. Providing responsiveness that outshines controllers made for standard gaming consoles, C.T.R.L.i is the premier controller for Apple devices. Perfect for big-screen gaming, the C.T.R.L.i is also ideal for use with all the all-new Apple TV!

Android/Fire TV/PC – C.T.R.L.R GamePad – $49.99 – http://store.madcatz.com/platforms/Android/Mad-Catz-C-T-R-L-R-Mobile-Gamepad.html

Bring Console-Grade control to your Android devices or PC with the xx from Mad Catz! Ditch touch controls for analog sticks, shoulder and action buttons, and a responsive D-pad. Mad Catz' cross-platform C.T.R.L.R is always ready to game, no matter how and where you like to play your favorites. C.T.R.L.R stems from over 20 years of experience making some of the world's best console controllers. Link to Bluetooth PCs and laptops, Fire TV, Google Nexus and other smartphones, plus Android-fuelled gear. C.T.R.L.R plays nicely with just about everything, and, three distinct modes let you select the control method that makes the most of your connected device. Works perfectly with Windows 10 thanks to standard PC protocols and XInput support, ideal when used in the living room with services such as Steam big Picture

 

L.Y.N.X.9 Mobile Hybrid Controller – $299.99 – http://store.madcatz.com/categories/controllers-category/Mad-Catz-L-Y-N-X-9-Mobile-Controller-for-Android-Smartphones-Tablets-PC.html

A multi-award winning, totally new concept in mobile controllers, the L.Y.N.X.9literally transforms, breaks apart and adapts to suit the needs of the gamer! Fully transportable, the L.Y.N.X.9 can be stored in a shirt pocket, yet extends to the size of a full console controller when ready to game! Ideal for use with cell phones (they can be docked via the enclosed mount), the L.Y.N.X.9 can also be used with your Smart TV or media streaming box! Detachable keyboard module makes accessing social media or emailing a breeze and on board microphone and media controls allow you to search for content and use with your media PC! The L.Y.N.X.9 features a mouse trackpad and fully rechargeable battery and can even break apart and connect to the supplies tablet stand for the ultimate in on-the-go gaming!

Multi/Lifestyle:

Mad Catz F.R.E.Q.9 Wireless Surround Headset – $159.99 – http://store.madcatz.com/platforms/xbox-one/Mad-Catz-F-R-E-Q-9-Wireless-Surround-Headset-for-PC.html

The last word in quality, versatility and function, the F.R.E.Q.9  provides a raft of all-new technology at an unbelieve price. The multiplatform Wireless Bluetooth 4.0 Headset features Surround Sound and an invisible microphone, ideal for standard audio use, cell phones and online chat. Packed with state-of-the-art technology and compatible with a breath-taking array of consoles, smart TVs and mobile devices, the Mad Catz F.R.E.Q.9 sets an ambitious performance standard in headset design, freeing you to experience extreme sonic clarity anywhere, on practically any system, wirelessly. Locate your enemies with pinpoint precision thanks to in-built AM3D surround sound. Chat in-game more naturally with binaural monitoring, and listen lag-free with breakthrough wireless aptX audio technology. With the addition of a rechargeable Li-ion battery and premium 50mm drivers, this could be the last headset you ever buy. Compatible with: PlayStation 4, Xbox One (Xbox One adapter sold separately), Xbox 360, PC, Mac, Android, iOS, Windows Phone, Mad Catz M.O.J.O., Amazon Fire TV, and other smart devices. The F.R.E.Q.9Wireless Surround Headset connects to smart TVs, set top boxes and any Bluetooth device. It includes an adapter box, allowing you to connect to pretty much any standard audio source and then transmit that said source wirelessly! Blu-Ray, TV, Hi-Fi, etc, can now all be enjoyed wirelessly thanks to xx!. Control the amount of background sound you hear with Soundchip's Digital Active Noise Cancellation (D-ANC). Coupled with superb sound isolation provided by the earcups, D-ANC will completely block out your noisy environment when you want to hear only the crystal-clear audio of your music or game. Most Bluetooth headsets are only viable for listening to music because lag between what you hear and what you see is too noticeable when gaming or watching HD video. F.R.E.Q.9solves the problem of wireless lag by incorporating powerful aptX low-latency technology under the hood. aptX dramatically improves the audio signal over Bluetooth, transmitting uncompressed, broadcast-standard sound from a wireless Bluetooth connection.

 

TRITTON Swarm Wireless Mobile Headset – $149.99 – http://store.madcatz.com/platforms/iOS/TRITTON-Swarm-Wireless-Mobile-Headset-for-Android-iOS-Smart-Devices-PC-Mac-Gaming-Consoles.html

A beautifully powerful, fashionable and highly innovate gaming headset, the TRITTON Swarm is sure to catch the attention of onlookers and your gaming buddies! Premium Bluetooth Audio powers the Swarm but despite the advanced tech, the headset couldn't be easier to use. Swarm can detect your device's best possible audio quality, then configure it for you. Automatically. Full control of voice search on your smart device means instant access to whatever you're looking for and earcup touch controls let your phone stay safely hidden. 1-Click AM3D Surround Sound brings a cinematic experience to games, movies, and even music on the move. Press just one button and sounds seem to expand beyond the confines of the headset. Swarm can pair with two different devices at the same time. Let's say your smartphone rings as you watch a film on a tablet. The film will pause, freeing you to answer the call with the on-can controls. Once the call ends, focus returns to the tablet for a seamless transition back to your movie! Swarm's fold-flat design makes it an easy-going travel partner. A 3.5mm cable connects to your seat during flights. When it's time to grab your carry-on bag, use Swarm's custom storage pouch for convenient protection. And on a full charge, Swarm can outlast your phone or tablet. The built-in rechargeable battery holds up to 40 hours of mobile power.