Dark Horse's latest Dragon Age series sets a pair of hunters against the most dangerous targets imaginable – mages.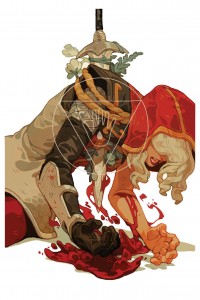 I know I'm in the minority, but I'm not all that big a fan of Dragon Age as a series of games. I am however, a fan of Conan and old school D&D, and have to admit that what I've read of the comics that Dark Horse has produced for the franchise over the years, I've liked.
There's plenty of action and adventure to be found, and usually a few monsters lurking about as well. Nothing I've read though has had a focus on the more magical side of the land of Thedas, and so Magekiller is a bit unique.
Mages in any fantasy universe are dangerous, but in the world of Dragon Age they're even more so thanks to there being an entire country that's founded on and ruled over by the mystic arts. That's where Magekiller is headed, as a series, but where it starts is by filling in the blanks a teensy bit on its two anti-heroes, the mage-hunting duo of Marius and Tessa.
The somewhat contrasting duo make their living hunting down and killing mages for a price. Although Marius' motivations are somewhat foggy, generally the more dangerous the magician, the bigger the cost to their employers. Where we first meet them is as they're on the hunt for a blood mage, though that's not the main focus of this particular story.
Magekiller #1 reads more as a kind of 'zero' issue. It tells you who that main characters are, hinting at their backstories with the enigmatic Marius and the chatty, more in-your-face Tessa. By the close of things, we see the actual story get started. I don't want to get into all that much about that here though, since it's actually a twist in the story and would spoil a fair bit for you.
I'm actually hesitant to even critique the story at all, since this first issue doesn't get into it till the very end. Though it does seem pretty cool, and definitely has possibilities. As it is though, there isn't much going on here other than table setting, and writer Greg Rucka seems to be more getting things ready and familiar to the reader than anything else.
While that's not a bad thing, and I actually like stories that start off with a bit of a prolog, I think dedicating half the issue to it would have been preferential in this case. It's not that the issue is boring, it just feels a little stretched out. It's actually not what I'm used to from Rucka, who's worked on major books before for Dark Horse, as well as Marvel and DC, and done so with excellent results. So basically, I'm thinking things are gonna pick up considerably from here.
As for the illustration, artist Carmen Carnero does a fine job detailing the fantasy setting. Her's is a realistic style, with a cartoony edge to it. The artwork is colorful at times, but also dips into dark, dank settings like dungeons, familiar to anyone who likes a good fantasy yarn. Her work fits the property to a tee.
Final Thoughts
Dragon Age: Magekiller doesn't get off to the greatest of starts with this  first issue, but it's not a bad read by any means either. The setup for a pretty cool arc is firmly in place with Greg Rucka's scripting, and Carmen Carnero's art is terrifically enjoyable.
If you're looking to get into the world of Thedas and Dragon Age, then by all means pick up this issue. If you're looking more for something that's straight action from top to bottom though, maybe wait for issue two. Personally, I'm looking forward to seeing where all this goes.