Of course there's some cool toys to go along with the return of Chris Carter's X-Files, and of course they're coming from DST.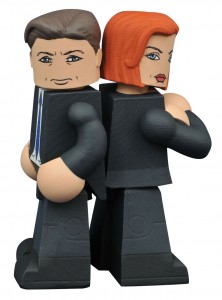 This January's return of the sci-fi/horror mega-hit show that was and is the X-Files is nothing less than a pop culture landmark event. This is no reboot, no 'updating' or 'reimagining' we're talking about after all, it's the continued adventures of Mulder and Scully and everyone else that makes up the X-Files mythos. Kind of like a sequel to the original show's run if you will.
And with that new show, will most definitely come the new want of cool stuff to go along with it- enter DST's new lineup of Minimates, action figures and collectible items. It's a license that the company is thrilled to have.
"As a longtime fan of the show, I'm very excited to have finally been granted access to the X-Files," said Diamond Select Toys President Chuck Terceira. "Agents Fox Mulder and Dana Scully are one of the most widely referenced and recognized pairs in pop culture, and the new show has everyone talking about them again. Plus, we have nine seasons' worth of supporting cast and creatures to play with in our line planning."
The diminutive 2″ tall figures that are Minimates are a mainstay at comics book stores and Toys R Us shops all over the country already, featuring everything from Marvel Comics to Godzilla, and now the expansively licensed toys are getting an infusion of X. A two-pack with Mulder and Scully sporting their modern looks is currently available for pre-order (through comic shops) and there's more on the way with a set of 4 packs based on the original show and a pair of 'Vinimates'.
If you're not familiar with those, Vinimates are 4″ vinyl figurines that don't have any articulation, but are sculpted in iconic poses. As you can see with Mulder and Scully here, that means they're featured in their classic back to back 'hero' pose.
And lest you thunk that the X-Files are closed with that, there's also a pair of 7″ action figures coming up. The toys will start off the X-Files Selects line, which expands on the company's already running Marvel, Star Trek and DCTV series', as well as the oncoming Ghostbusters line.
We have yet to see production samples as of yet for them though, and there's no release date yet either, but you can expect the new line to delve into both the modern series as well as the classic show. And if you're familiar with the lines I mentioned above, then you know what kind of quality that you can expect from them.