We told you about Layers of Fear earlier this week, and the spook-tacular game has gotten even creepier since, with the addition of a 'Halloween Room' where you can talk to ghosts. And not just a trick, there's treat to this one too.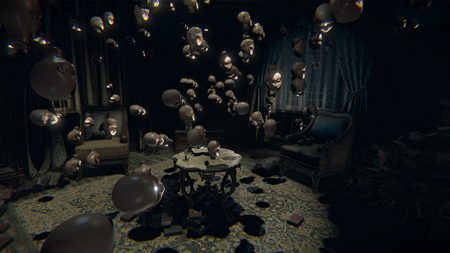 Now, these aren't real ghosts (we hope), so don't get too scared. Still though, Layers of Fear is getting some pretty frightening word of mouth already for it's intense scares and freakish setting, so maybe you should be a little cautious.
In any event though, the game has a new Halloween patch that just arrived today that not only adds more scares, but gives you the chance to actually win something pretty unique. The patch adds in a special room that you can visit, one that's themed for the big holiday that's hitting this Saturday.
Before we get into that though, there's also an update for the Early Access title, and it's a pretty big one. The patch adds in Polish and Italian as language choices (there's even more on the way), and a myriad of other fixes and improvements. Also added in, you can now select different chapters without losing your progress, and there are now more graphics improvements including "texture quality, shadows quality, and more".
But lets get back to the Halloween Event Room, since that's really the main event today. The room allows you to talk to the dead and ask them for wisdom via the keyboard by inputting words associated with the game. Bloober suggests only visiting the room after you've completed the main game, and there are 48 happenings in this new area that you can trigger by just playing around. Some effects can even be triggered by typing in multiplee words, so you'll really have to do some experimenting to see them all.
And you will want to see them all, as developer Bloober Team will actually paint the portrait of the first three people who are able to find and activate all the events. Yes, a real painting, and it's by the art team to, not just a random member of the dev team, so you know it'll be awesome.
Act fast though if you want to try and win, as the contest wraps up (winners or no) in a month's time.