You might have heard, but Destination America (the cable channel) is hosting a real, live, honest-to-goodness exorcism.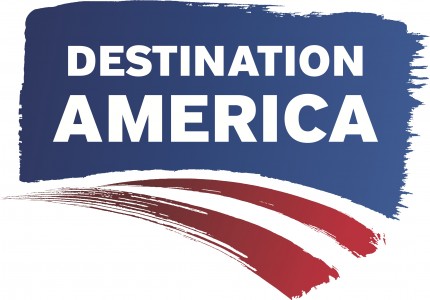 Roland Doe (not his actual name) was the focus of the real story behind the classic book-turned-horror flick The Exorcist. And now, some 66 years after the real-world possession, Destination America is prepping a long-awaited followup. But while the first one was only written about (before becoming a movie), this one is going to be shown live to the whole world.
Former Entertainment Tonight and The Insider host Chris Jacobs will host 2 hour long happenings, as  we hear from experts in the paranormal and historians and descendants of Roland Doe. While they'll be talking about his particular case though, the main event is the all-new exorcism, one that we'll actually get to see play out.
Exorcism Live! kicks off this Friday, October 30, at 9/8 central time on Destination America. Scroll on to see the full list of who's set to appear and what role they'll play on what DA is calling "the most dangerous night on television".
Chris Jacobs, host of EXORCISM: LIVE!
Chris Jacobs is an actor and television personality. He formerly hosted The Insider, and also worked as a correspondent for Entertainment Tonight. Now, he hosts Velocity's popular automotive makeover show Overhaulin', which returns with a brand-new season on Wednesday, November 4 at 9/8c. He recently hosted Discovery Channel's interactive portion of Chopper Live, Gold Rush Live, Skywire Live, and Skyscraper Live.
Bishop James Long, Presiding Archbishop of the United States Old Catholic Church
Bishop Long knew at 5 years old that he wanted to be a priest. By the age of 9, he also knew that he was called to study Demonology and began to study anything he could on the subject. After years of studying for the Roman Catholic Priesthood, Bishop Long felt that God was calling him to the United States Old Catholic Church, where he currently serves as the Presiding Archbishop as well as an Exorcist. Bishop Long has performed 27 documented Solemn Rite of Exorcisms on people possessed by demonic entities, and hundreds of Minor Rite of Exorcisms on demonic entities who have infested a home or building. It is the Minor Rite that he will be performing on the Exorcist house during EXORCISM: LIVE! He is the author of Through the Eyes of an Exorcist and the founder of The Paranormal Clergy Institute, created to help home-owners and paranormal groups by providing information that will help defend against demonic entities. He also teaches an online introductory demonology course.
Chip Coffey, world-renowned psychic medium
Chip Coffey is an internationally acclaimed psychic, medium, paranormal investigator, lecturer and author whose role in EXORCISM: LIVE! will be to make contact with the entities by connecting with the house and taking part in a séance. His psychic abilities manifested themselves when he was a young child and, after successful careers in traditional counseling, the entertainment industry and travel management, he began working full-time as a psychic and medium in 2001. Since that time, he has conducted thousands of readings for clients all around the world. Coffey's first book, Growing Up Psychic, was published by Random House in 2012, while articles that Coffey has written have appeared in regional and national publications. A firm believer in God and His Angels, Coffey believes that miracles, great and small, happen each and every day.
The Tennessee Wraith Chasers, paranormal investigators of the hit series GHOST ASYLUM
Just as they do on GHOST ASYLUM every Friday at 9/8c on Destination America, the Tennessee Wraith Chasers (TWC) will investigate the Exorcist house for paranormal activity to confirm the entities that haunt it. "Respect, detect, collect" is TWC's motto and the core process they follow in every investigation. Stepping into locations that only the bravest dare to enter, TWC meshes scientific methodology and ghost-hunting gadgets with their Tennessee wit and thirst for adventure. Their goal isn't just to communicate with restless souls, but to physically capture them in custom-created ghost traps and help them find peace beyond the gates of their ghostly tomb. They are a serious team of paranormal investigators and researchers that takes pride in honesty and learning something new with every case. The team consists of Chris, the founder; Doogie, the co-founder; Porter, the historian; Brannon, the trap inventor; and Chasey Ray, the trap engineer.
Dave Glover, Interactive Correspondent
The Dave Glover Show has been driving St. Louis home on local radio station FM NewsTalk 97.1 for more than 15 years, and the Halloween episode has become an annual favorite. In 2008, Glover ran a contest for three lucky listeners to win a nighttime investigation at the Exorcist house. Footage never before seen on television reveals the immediate terror inflicted upon one winner and the frightening encounter that sent another running and screaming from the house. In EXORCISM: LIVE!, Glover will serve as the on-air voice for viewers on the frontlines of Destination America's live Twitter conversation. Throughout the show, viewers are encouraged to monitor live camera feeds streaming onDestinationAmerica.com/ExorcismLive from cameras set up around the house and post their observations of mysterious activity on the adjacent comment board or by tweeting @DestAmerica using #ExorcismLive. Glover will report on the trends he's seeing on Twitter to inform the team of paranormal hot spots they should investigate next.
Other participants making appearances during the night include:
Nick Groff, veteran paranormal investigator of the Exorcist house
Nick Groff has been fascinated with the paranormal ever since surviving a near-death experience as a child. He has been chasing ghosts for most of his life with the goal of finding new evidence of the afterlife and discovering a breakthrough in paranormal research. During the filming of a TV show at the Exorcist house in 2011, an evil entity attached itself to Groff. The weight of the negative energy affected him long after returning home, and he eventually had his home cleansed.
Greg Myers, Missouri-based veteran paranormal investigator of the Exorcist house
Greg Myers is the co-founder of Paranormal Task Force, a not-for-profit organization that raises awareness of paranormal research and historical preservation. He serves as the co-administrator, lead investigator, and EVP specialist of its Missouri division. In 2009, Myers investigated the Exorcist house and had a terrifying experience. Photographic and video evidence shows evidence of a white cross burned into the side of his neck. He was featured in and co-associate produced the 2010 paranormal documentary The Haunted Boy: The Secret Diary of the Exorcist.
Robert Murch, spirit and talking board expert
Murch is the world's foremost collector, historian, and expert on Ouija® and talking boards and serves as the "Chairman of the Board" for the Talking Board Historical Society, which he founded. In EXORCISM: LIVE!, Murch will lend his expertise to the séance portion of Destination America's investigation of the home.
Eileen Dreyer, great niece of Father Bowdern
Father William Bowdern assisted in the final exorcism on Roland Doe, which became the basis of William Peter Blatty's novel The Exorcist. He kept a diary of Doe's case that details the boy's affliction. Dreyer lives in St. Louis and is a New York Times best-selling novelist.
Christopher Saint Booth, filmmaker of "The Haunted Boy"
Christopher Saint Booth and his brother, also known as the Booth Brothers, are the filmmakers behind the 2010 documentary The Haunted Boy. Booth was one of the first people to investigate the Exorcist house for paranormal activity and attempt to track down personal belongings that were in Roland Doe's room at the time of his exorcism.
Dr. Michael Lynch, paranormal expert
Dr. Michael Lynch is a paranormal expert and parapsychologist based out of St. Louis and a frequent commentator on The Dave Glover Show. He was in attendance the night of Glover's investigation at the Exorcist house.
Mike Madonna, Roland Doe researcher
Mike Madonna is a St. Louis-based blogger who has been researching Roland Doe's case for years, uncovering new information, and posting his findings.
EXORCISM: LIVE! is produced for Destination America by Tremendous! Entertainment with Colleen Needles Steward, Shannon Keenan Demers, Rob Hammersley and Eddie Delbridge as executive producers. For Destination America, Fay Yu and Sara Helman are executive producers, Jodi Tovay is producer, Jane Latman is general manager, and Henry Schleiff is Group President of Investigation Discovery, Destination America, and American Heroes Channel.