Street Fighter fanatics are going to want to check out what Mad Catz has on tap for the forthcoming fifth (numbered) Street Fighter title.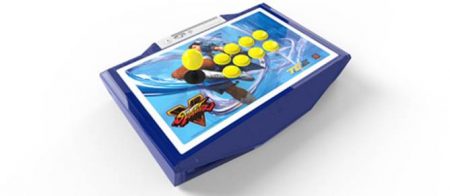 Well, here we go folks, the Street Fighter V stuff is starting to roll out. From the looks of what Mad Catz has ready for the big event (which isn't coming till some time next year of the PS4 and PC), it's going to be some cool stuff too.
Starring the first lady of Street Fighter Chun Li, the Limited Edition Chun-Li TE2 FightStick is set to arrive well ahead of SFV and will land this Holiday Season. The stick harkens back to the SFIV Chun Li stick, which is a favorite of many a gamer, and will be compatible with the PS4 and also the PS3, for a little Street Fighter IV action, should you be so inclined.
It's also set to be the official stick of the Capcom Pro Tour, which sponsors fighting game tourneys globally. According to Mad Catz' Darren Richardson, this limited edition stick is just a taste of what's to come in 2016, as there'll be a whole lineup on the way.
"Since announcing the new Street Fighter V range in March of this year, we have experienced an increasing groundswell of anticipation amongst the passionate gamers in the fighting game community. We're excited to offer this limited edition controller as a taste of what's to follow next year," said Darren Richardson, President and Chief Executive Officer of Mad Catz. "The Mad Catz FightStick range is synonymous with quality and reliability, proven to give tournament gamers the edge they need for precision play. We expect the new FightStick range to offer a positive contribution to our growth throughout 2016 and beyond."
Want one? Head over to Mad Catz' official site and order up. The stick will cost you $229.99 USD and pre-orders are being taken right now; it'll ship some time this fourth quarter.