A brand new series of action figures based on the classic Halloween/Christmas movie Nightmare Before Christmas are in stores today along with Ant-Man Minimates and a bust bank based on ST:TNG's resident Klingon.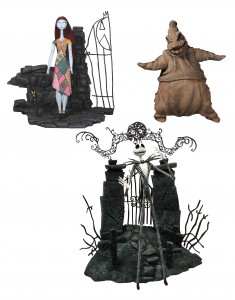 I had no idea that there was even a new Diamond Select Series of figures based on Tim Burton's Mightmare Before Christmas, but there sure is and the first wave of toys is now available. Jack Skellington, Sally, and Oogie Boogie are all ready to come home with you and make themselves comfortable on your toy shelf – and just in time for Halloween too.
As mentioned above too, there's more than just a god stop-motion scare in stores this week though, as Ant-Man finally gets a set of Minimates and Lt. Worf joins DST's lineup of banks that serve a busts of your favorite pop culture characters.
Get the full skinny below and check out the gallery to see what's available, then make you r way to your local comics shop or specialty store to get in on the new releases.
Marvel Minimates Ant-Man Movie Box Set
A Diamond Select Toys release! The smallest Marvel movie of all time is almost here! This four-pack of Minimates based on Marvel's Ant-Man movie includes four different 2-inch mini-figures – Scott Lang as Ant-Man, Hope Van Dyne, Hank Pym and Yellowjacket! Each Minimates mini-figure features 14 points of articulation, as well as interchangeable parts and accessories. Packaged in a full-color window box. (Item #APR152307, SRP: $19.99) http://www.diamondselecttoys.com/marvel-minimates-ant-man-movie-box-set
Nightmare Before Christmas Select Action Figures Series 1 Asst.
A Diamond Select Toys release! Tim Burton's The Nightmare Before Christmas is finally getting the Select action figure treatment! The Select line is known for its detailed sculpts, larger scale and its diorama bases, and NBX promises to put all of those features to the test! Jack Skellington, Sally and Oogie Boogie will make up the first series of figures, each sculpted to a 7-inch scale with character-appropriate articulation. Jack Skellington will come with a cemetery environment, Sally with a Halloweentown environment and alternate kneeling legs, and Oogie will come with a stone floor base and a removable face! Each figure will come packaged in the Select-style display packaging, with spine artwork. Sculpted by Dave Cortes! (Item #APR152296, SRP: $149.94/case)
Star Trek TNG Lt. Worf Vinyl Bust Bank
A Diamond Select Toys release! Where's the safest place on the Enterprise? Right behind Worf! Make your money that safe by putting it inside this 7" vinyl bust bank depicting Star Trek's most famous Klingon crew member, with his phaser at the ready. With detailed, bust-quality paint applications and a coin slot on his back, this functional collectible is torn between two cultures – does he belong to both, or neither? You decide! Comes packaged in a clear polybag. Sculpted by Patrick Pigott! (Item #MAY152170, SRP: $22.99) http://www.diamondselecttoys.com/star-trek-tng-lt-worf-vinyl-bust-bank