Using Norwegian art, nature and Norse Mythology, the gang over at Antagonist have been working away on Through The Woods since 2013.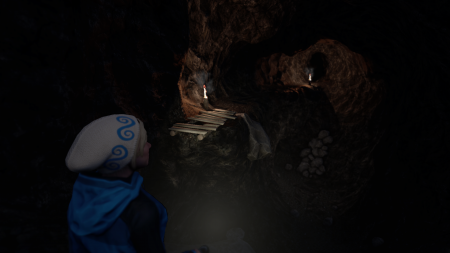 Creatively using the lack of light and exceptional audio design to play with your heads, Antagonist wants to return you to a time when you were afraid of the woods. Their aim is to make people do a double take the next time you stroll past a darkened thicket. They are definitely on their way.
In the limited preview we were given access to, you play through a mother's retelling of her son's disappearance. You definitely feel the fact that you are in the woods. Alone. After I found my next marker, I found myself turning off the flashlight and sprinting to my next point. On the edge of my seat, hoping nothing was set to jump out at me.
If Antagonist wanted to bring the player back to a time when they were afraid of going into the woods alone, they are definitely doing a good job. I have no doubts the full release will carry this feeling into a much richer gameplay experience.
Through The Woods is expected to release sometime in the first quarter of 2016 on PC. There is no word yet on any console adaptations.