Jump forward 30 years into the future, to a wasteland that used to be California, as Bloodshot finds himself out of date- an Analog Man.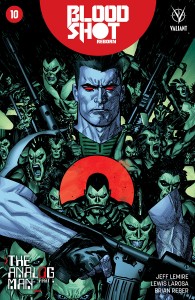 Now this is interesting. We don't yet know how exactly Valiant will be fitting this tale into continuity, or what happens to the Valiant U in the time between now and three decades from now, when everything has gone to hell in a hand basket. Whatever the rationale is though, it sounds pretty freaking cool.
Many years from now, Los Angeles has become a post-apocalyptic no-man's land and the once unstoppable killing machine known as Bloodshot has become THE ANALOG MAN. Hopelessly outdated, Bloodshot's taken on a new role as the protector of a small town, eking out a subsistence existence with the great love of his life – Magic – and protecting a group of stragglers who've weathered the storm. But when a gang of marauders arrives, the settlement's survival is threatened, and Bloodshot is forced to bring justice to the distorted and disjointed badlands of the Valiant Universe!

"Bloodshot has found some peace at last. Or at least he thinks he has," writer Jeff Lemire told io9. "And then, of course, I'm going to rip that all away from the poor guy and send him on an adventure like none he's ever had before…[and] it looks amazing. Lewis LaRosa is doing career-defining work. Wait until you see it! Monster trucks, Shadowmen, Ninjak, old Bloodshot. He nails it all."
Valiant is shooting for something way more than one arc here too, as they say that not only will The Analog Man be a "summer blockbuster" of a mini-event, but it'll also be the start of something very big for their superhero universe on the whole. There's quite a creative team behind this one as well, with Valiant mainstay Jeff Lemire crafting the story and Lewis LaRosa on pencils.
"Over the coming year, BLOODSHOT REBORN is going to be building towards a critical moment that has widespread implications for all of Valiant's biggest heroes. That road begins in THE ANALOG MAN – a widescreen action epic that is every bit as searing and intensely electrifying as a full-blown summer blockbuster," said Valiant Editor-in-Chief, Warren Simons. "Jeff Lemire and Lewis LaRosa are firing on all cylinders and outdoing themselves with each new issue that comes in. Simply put, this is one of the most formidable creative teams anywhere in comics."
This is a big one; The Analog Man kicks off in Bloodshot Reborn #10, on the racks this coming January.