With the holiday season around the corner, be sure to keep your eyes out for these fireballs!
Yesterday Nielsen released their list for the most-anticipated games for holiday season.
Regardless of where you get your games, it looks like there is something for almost everyone.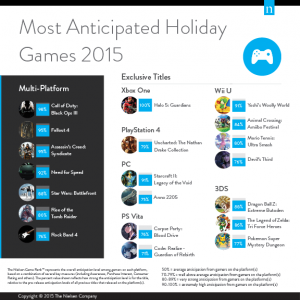 Whether you're an anime fan and waiting for the latest Dragon Ball Z release or a lead-footed driver, you're covered.
Retailers and online stores will be booming in the coming weeks:
The upcoming releases of Activision's Call of Duty: Black Ops III,  Ubisoft's annual Assassin's Creed: Syndicate are just two of the 'big seven releases' to watch for.
Square Enix and EA Games made sure they were a part of the holiday season with Rise of the Tomb Raider and Need for Speed, respectively.
Xbox One owners will have Halo 5: Guardians available, while Playstation 4 fans will have the Uncharted: The Nathan Drake Collection to keep them busy.
After a hiatus, Harmonix brings Rock Band 4 back into homes. This could be a fun way to get the whole family into the living room after those big holiday meals.
With something for everyone, this holiday season looks like it will have no problem making everyone happy. Happy Gaming!
source: gamasutra