Fresh off the triumph that was Fury Road, Mad Max is heading back to the big screen for a pair of sequels.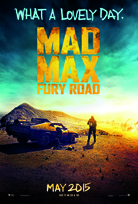 Apparently, two more scripts are already in the can, so to speak, as Miller told the BBC's Top Gear that he's already got narratives in place for the movies. That shouldn't come as much of a surprise, as I'm sure that Warner Bros wasn't exactly disappointed with Fury Road not only raking in over $300million USD at the global box office, but also being one of the most critically acclaimed action films in years and years. Maybe ever now that I think about it.
As for those sequels though, don't expect to see them start filming tomorrow. Though Miller has confirmed that they're in the works, he also says that his next picture will be considerably smaller in scope and tone. He basically wants to direct something a little more subdued before plunging back into Mad Max' wasteland again.
That also brings to mind the fact that Miller was heavily rumored as directing the Man of Steel sequel for Warners, something that was shot down by the director. I'm sure the fact that he's on the clock for two more Max' and that he wants his next movie to be something sans special effects and big explosions has a little something to do with that. Would have been nice though.
If you'd like to read more about what's happening with the next Mad Max films, as well as see what a complete slog it was getting Fury Road into movie houses (I had no idea), hit the link below.
Source: Top Gear