Well, looks like we totally forgot to report on these, so just in case you haven't heard by now, here are the free Games with Gold for Xbox gamers for the current month.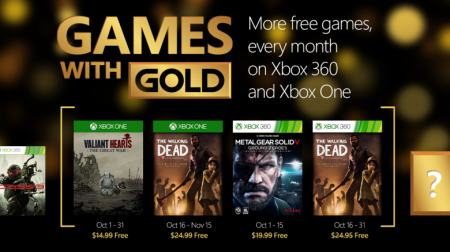 Fresh from Major Nelson's blog (well, maybe not fresh in the strictest sense) come the Games with Gold freebies for October. And honestly, it's a pretty nice little lineup.
Xbox One gamers can download both Valiant Hearts: The Great War, the surprise hit WWI adventure title, all month long, and can also snag a gratis copy of The Walking Dead's first season from Telltale Games. The original season of the game, by the way, is an emotional rollercoaster and is pretty much a must-play for fans of the show and/or comic book (which it's based on). So if you haven't played yet… This one has one of those stilted availability periods too, starting on the 16th of this month, and running through the 15th of November.
Season one of TWD also makes the Xbox 360 offerings by the way, and can be downloaded on that last-gen console from the 16th of this month through the 31st (Halloween – spooky isn't it?). Joining it is the other free 360 game of the month, Metal Gear Solid V: Ground Zeroes.
If you're not familiar, this is the prequel game to The Phantom Pain, and is a super-short trip through the lead up to that just released send off of the MGS series (for now anyway). Even though it's short, and not all that revealing about any major plot points, it's still a great time, and a kind of bonus adventure with Snake and crew that's made doubly nice since it's free.
And there you have it, the free titles of October, exclusively for Xbox Live Gold members. No go get 'em while you can.
Source: Major Nelson